Bryant Completes Merrimack Sweep, Wins Fifth Straight Thursday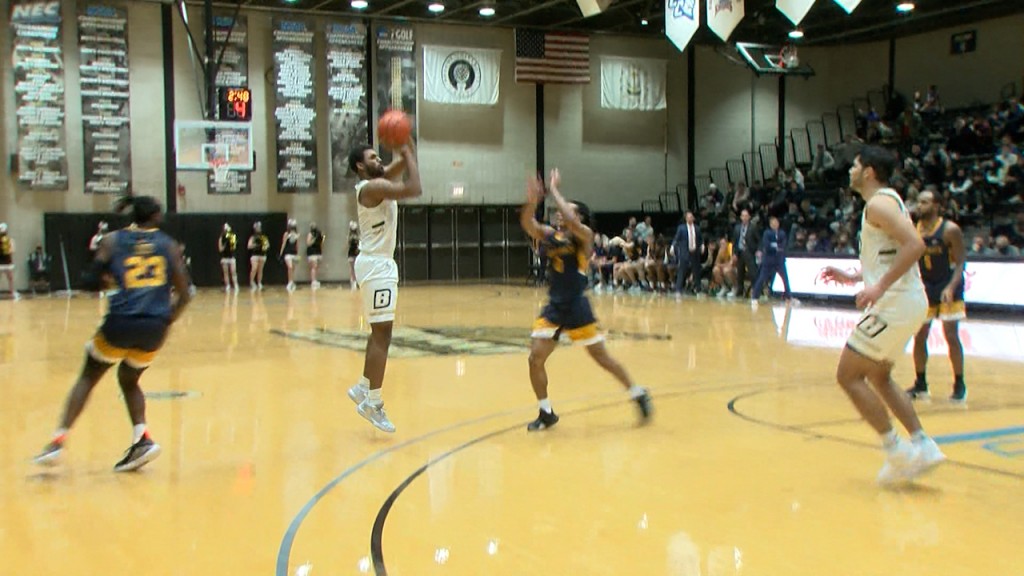 Bryant University Press Release
SMITHFIELD, R.I. – Peter Kiss scored a game-high 29 points and Adham Eleeda sank two late threes as the Bryant University men's basketball team was able to hold off a second-half rally and defeat Merrimack, 76-67, Thursday night at the Chace Athletic Center.
With the win, the Bulldogs have now won five-straight overall and each of their last 12 Northeast Conference regular-season home games. Bryant is 8-1 in NEC play for the first time in program history.
Kiss finished with 29 points, his sixth game of 25+ points in his last seven, on 7-of-12 shooting from the field and 13-of-16 from the line. He added nine rebounds and three assists. Charles Pride posted 18 points and five boards, Adham Eleeda chipped in 12 and Luis Hurtado Jr. had four points, three boards, seven assists, three steals and just two turnovers in 33 minutes.
Game InformationBryant 76, Merrimack 67Records: Bryant 11-8, 8-1 NEC | Merrimack 8-13, 4-5 NECLocation: Chace Athletic Center (Smithfield, R.I.)Attendance: 1,200
Key Moments
Leading 61-60 with 4:45 to go, two of Bryant's offseason acquisitions came to life. Greg Calixte grabbed an offensive board and put it back, and Eleeda followed with back-to-back threes to make it 69-60 with 2:46 to go.
How it Happened
Pride and Kiss got the Bulldogs going early as Pride hit a floater in the lane and Kiss ignited the crowd with a three from the left wing.
The Warriors would grab a 9-6 lead before the Black and Gold ran off a 9-0 run to regain the lead. Kiss turned a turnover into a runout dunk and Pride followed with a stepback three from the left corner. Hall Elisias sent the crowd into a frenzy and capped the run with a pin block on one end and two-handed flush on the other.
Merrimack would close the gap to 20-17 but Kiss electrified the home crowd with a thunderous two-handed slam.
Kiss and Hurtado Jr. would hit back-to-back threes to help Bryant build a 12-point lead but the Bulldogs would settle for a 39-32 lead at the break.
Kiss and Pride combined for 24 points in the first half.
After Pride opened the second half with a three, the Warriors responded with a 10-0 run to tie the game at 42-42.
Tied 44-44, Hurtado Jr. served up a long alley-oop and Elisias threw it down, sparking a Bryant run.
Kiss grabbed a miss on the other end and stepped through the lane and flicked it off the glass for two to make it a four-point game. A Kiss turnaround moments later made it 52-47 with 11:25 to play.
Merrimack would again pull even, this time at 54-54, before a pair of Kiss free throws broke the final tie of the night with 8:40 remaining.
Eleeda, who started the night 0-for-6 from three, drilled a triple from the corner to make it 59-54.
Ziggy Reid, however, pulled Merrimack back within a point with a conventional three-point play and a triple from the top.
Leading by one, Calixte grabbed a missed three pointer and laid it back up for his first points of the night with 4:13 to go.
Eleeda then hit threes on consecutive possessions, the second one coming off a beautiful shot fake, to give Bryant a 69-60 lead.
The Bulldogs then made their free throws down the stretch to close it out.
Stats
Bryant finished 22-of-47 (46.8 percent) from the field, 8-of-21 (38.1 percent) from three and 24-of-34 (70.6 percent) from the line.
The Bulldogs earned a small rebounding margin, 35-34.
Bryant turned the ball over just 12 times.
Kiss scored 29 points on 7-of-12 shooting from the field and 13-of-16 from the line. He was 2-of-3 from three and added nine rebounds.
Pride scored 18 points on 7-of-11 shooting. He added five boards.
Eleeda finished with 12 points and matched his season average with three triples.
Elisias posted seven points, eight boards and four blocks.
Hurtado Jr. collected four points, three rebounds, seven assists and three steals.
Game Notes
Bryant is now 5-1 against Merrimack since the Warriors move to Division I. The Bulldogs have won each of the last five meetings.
Bryant is now 8-1 in league play, it's best start since joining the NEC in 2008-09.
The Black and Gold are now 7-1 at home this year and 17-2 over the last two seasons. Bryant has won 12-straight regular-season NEC games at home and is 22-8 against NEC foes at home under Jared Grasso.
Bryant has now held each of its last five opponents under 70 points and is 16-1 when doing so the last two years. The Bulldogs are allowing 69.8 ppg in league play.
Kiss posted his 35th double-figure scoring game in 38 outings as a Bulldog.
Kiss has scored 20+ points nine times this year and has 20+ points in six of his eight NEC games. He has scored 20+ points in 13 of his 22 career NEC regular-season games.
Kiss has also scored 25+ points in six of his last seven outings.
Kiss leads the NEC with 22.3 ppg and is averaging 25.3 ppg in league play.
Pride now has 43 career double-digit scoring efforts.
With 18 points, Pride now has 834 career points, moving him past Ikenna Ndugba and into 12th place in DI program history.
Pride is now averaging 17.3 ppg and 8.8 rpg in NEC play.
Elisias blocked four shots is averaging 3.22 blocks per game.
Hurtado finished with 17 assists in two games vs Merrimack this year. He now has 36 assists and just nine turnvoers in eight NEC games.
Up NextBryant closes out its three-game homestand on Saturday afternoon when it welcomes Long Island University to the Chace Athletic Center. The game will be televised on CBS Sports Network and will tip at 2:05 p.m.