Bryant Defends One Point Lead to Road Win over Duquesne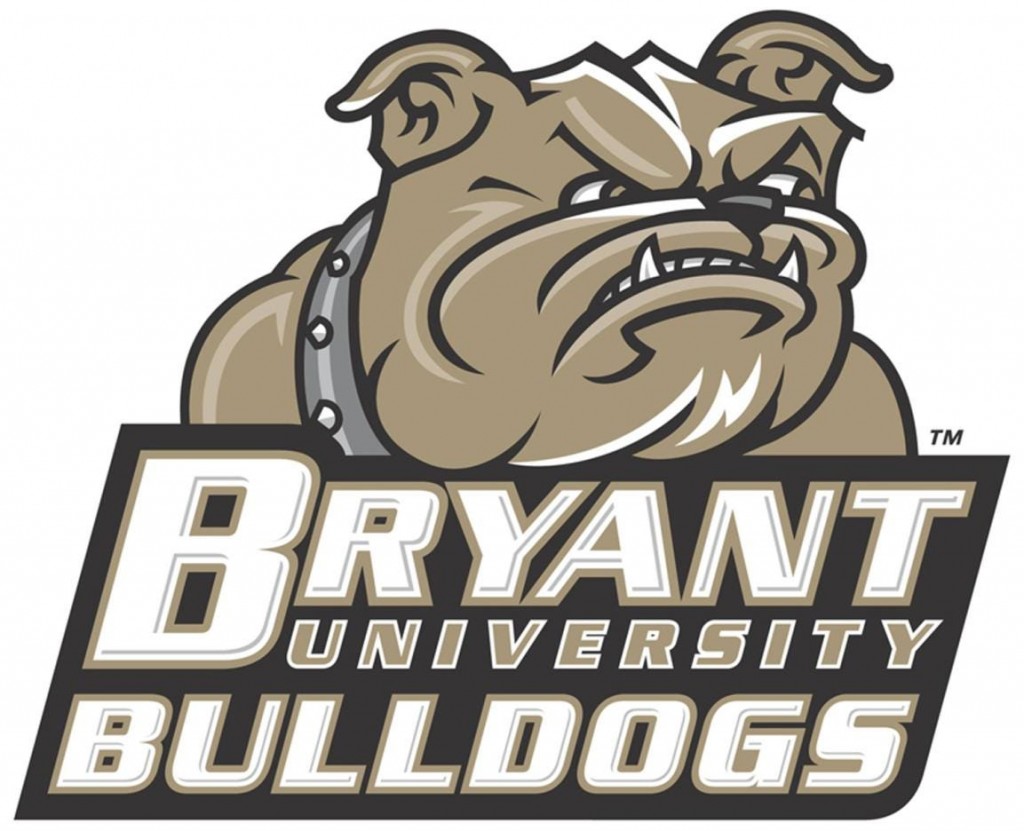 Junior Tomas Wright (St. Augustine, Fla.) and senior Thomas Costigan (Stamford, Conn.) combined for five sacks and the Bryant University football team forced four turnovers as it defeated Duquesne 21-20 on Saturday afternoon at Rooney Field.
In a matchup of two of the Northeast Conference's top offenses, it was Bryant's defense that led the way on Saturday. The Bulldogs posted five sacks, 11 tackles for a loss and four turnovers, with three coming inside their own red zone. Saturday's game was also delayed one hour and 20 minutes due to lightning late in the second quarter.
Bryant, however, trailed by six late in the third quarter when junior Alex Rasmussen (Fallston, Md.) hauled in a 24-yard pass from redshirt senior Price Wilson (Marietta, Ga.) for his first-career touchdown to put the Bulldogs ahead.
The Black and Gold defense did the rest, holding the Dukes to one yard of total offense in the fourth quarter. Wright finished with six tackles, three sacks, 4.5 tackles for a loss, a forced fumble and two pass breakups, while Costigan had seven tackles, two sacks and a forced fumble. Junior Robert Brown (Palmetto Bay, Fla.) chipped in seven tackles, three tackles for a loss and returned a fumble 46 yards for a touchdown in the second quarter.
Offensively, Wilson finished 15-of-26 for 196 yards and two touchdowns and senior Brenden Femiano (Northport, N.Y.) led the way with 68 yards on 14 carries. Classmate Vincent Nisivoccia's (Nutley, N.J.) only catch was a 51-yard touchdown reception in the first quarter.
Game Information
Bryant 21, Duquesne 20
Records: Bryant (4-1, 2-0 NEC), Duquesne (3-3, 0-1 NEC)
Attendance: 2,145
Coach Perry's Comments
"First, my thoughts and prayers go out to the whole Duquesne football family. It always puts the game in perspective. I could not be more proud of our guys. Playing Duquesne on the road, to play as hard and do the things they did today is remarkable. We always talk about sticking together and lifting each other up. That was a great example of that. When you get to see the defense finish the game, they earned that right with the way they played today. I know when we get off this bus we're going to be ready to get better."
Key Moment
With the Bulldogs down by six, Rasmussen found himself wide open and hauled in a 24-yard touchdown pass from Wilson with 1:01 left in the third quarter.
Wright forced Duquesne to punt with a third-down sack early in the fourth quarter and then helped derail the Dukes final drive with a sack on 2nd-and-2.
How It Happened
Duquesne struck first on Saturday, scoring on a 37-yard pass from Daniel Parr to Stew Allen with 8:36 left in the first quarter.
The Black and Gold responded with a quick 6-play, 65-yard scoring drive that took just 1:24. On 3rd-and-7, Nisivoccia caught a Wilson pass at the DUQ 30 and made four men miss as he raced down the sideline for a 51-yard touchdown.
Both teams traded fumbles before the Dukes retook the lead on an A.J. Hines five-yard TD run with 13:51 left in the second quarter. Redshirt sophomore Fernando Casanova (Jacksonville, Fla.) blocked the PAT.
Bryant took its first lead of the afternoon with a defensive touchdown in the second quarter. Wright made the hit on Hines and knocked the ball free. Brown was right there to pick it up and scampered 46 yards for the score.
A 1 hour and 20-minute lightning delay followed the Brown touchdown.
Bryant's defense then made the 14-13 lead hold up at the half by forcing two turnovers. First, junior Eulogio Portugal (Rosedale, N.Y.) intercepted a Parr pass at the Bryant 6 with 3:55 left.
Costigan's strip sack of Parr then ended Duquesne's next drive at the Bryant 11 with 23 seconds left.
Duquesne retook the lead with a six-play, 57-yard drive in the third quarter. Parr connected with Nehari Crawford for 40 yards and his one-yard TD pass to Allen capped the drive.
Bryant's game-winning scoring drive was aided by a 15-yard face mask penalty. On the ensuing play, Wilson hit a wide-open Rasmussen to give the Bulldogs the lead.
The Black and Gold defense then posted four sacks in the fourth quarter to close the door.
Stats
Duquesne outgained the Bulldogs, 305-298, in total offense.
Bryant forced four Duquesne turnovers, while the Black and Gold turned it over twice.
Wilson finished 15-of-26 for 196 yards and two touchdowns.
Femiano rushed for 68 yards on 14 carries. Sophomore Isaac McCray (Middletown, R.I.) added 42 yards on 12 carries.
Rasmussen and redshirt junior Jean Constant (Delray Beach, Fla.) each finished with three catches.
Nisivoccia made one catch for 51 yards.
Costigan led the defense with seven tackles, two sacks, a forced fumble and a fumble recovery.
Brown also made seven tackles and added three tackles for a loss, forced a fumble and returned a fumble 46 yards for a touchdown.
Wright had three sacks, 4.5 tackles for a loss, a forced fumble and two pass breakups.
Portugal made five tackles and intercepted a pass.
Notes and Notables
Bryant is now 7-4 all-time vs. Duquesne and 3-2 at Rooney Field.
The Bulldogs had under 300 yards of total offense for the first time since October 14, 2017.
Wilson has now thrown for 15 touchdowns this season.
Rasmussen's touchdown reception was the first of his career. It comes after he had TD receptions called back in each of the last two games.
Costigan posted multiple sacks for the sixth time in his career.
Costigan now has 23.5 career sacks, the second-most in program history.
Costigan forced his 11th career fumble, the most among active FCS players.
Wright has now posted 5.5 sacks, 8.5 tackles for a loss and has forced three fumbles the last two weeks.
Wright now leads the team with 7.5 sacks and 12.5 tackles for a loss.
Wright is now eighth all-time at Bryant with 16.5 sacks.
The interception was the first career pick for Portugal.
Brown's 46-yard fumble return score was the first touchdown of his career.
Up Next
The Bulldogs return home to host Central Connecticut next Saturday on Family and Friends Weekend. Kickoff is scheduled for 1:00 p.m. at Beirne Stadium.