Bryant Gives Harvard a Good Run Before Falling Short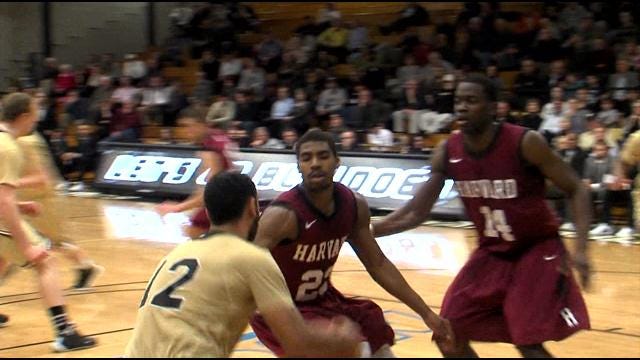 SMITHFIELD, R.I. — Steve Moundou-Missi scored 15 points to help Harvard beat Bryant 66-57 on Tuesday in its final non-conference game.
Moundou-Missi's three-point play gave Harvard a 58-55 lead with 3:44 left. He hit an open baseline jumper three minutes later for a five-point lead.
Zena Edosomwan had 13 points, four in the final two minutes, and grabbed eight rebounds for Harvard (11-4). Wesley Saunders added 12 points. Harvard was just 9 of 27 (33 percent) from the field in the first half and 14 of 28 in the second.
Dyami Starks was 7 of 22 from the field for Bryant (8-8) and finished with 18 points. Joe O'Shea added 14 points. The Bulldogs didn't make a field goal in the final four minutes of the game.
Bryant, whose four-game winning streak was snapped, will play Pittsburgh on Feb. 2 in its final non-conference game.
Copyright by STATS LLC and The Associated Press