Bryant Hits One Field Goal in Last Eleven Minutes in Loss to Fairleigh Dickinson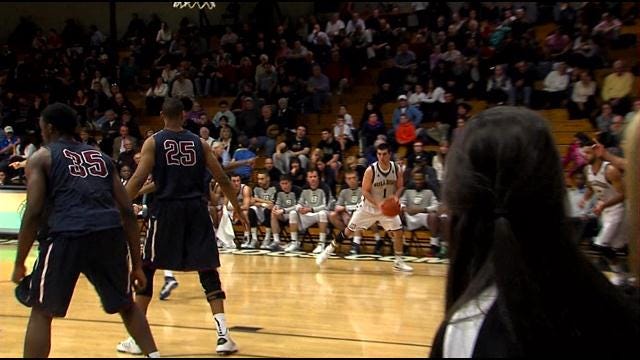 Bryant University Press Release
SMITHFIELD, R.I. – Senior Corey Maynard (Adelaide, Australia) and junior Dyami Starks (Duluth, Minn.) scored 17 and 16 points, respectively, to lead the Bryant University men's basketball team, but Fairleigh Dickinson turned on the pressure early in the second half and rode that momentum all the way to a 63-52 victory at the Chace Athletic Center Thursday night.
The Knights (9-17, 5-7 Northeast Conference) saw three finish in double figures, led by 19 points from Mustafaa Jones. Mathias Seilund and Sidney Sanders Jr. added 17 and 15, respectively, while Scooter Gillette paced the side on the glass (8). The Bulldogs (16-11, 8-4) got eight boards from Maynard and senior leading scorer Alex Francis (Harlem, N.Y.), who was limited to just seven points on the night.
Neither side led by more than two possessions throughout the opening 20 minutes, and a long triple from Sanders Jr. gave the Knights their first lead since the 13-minute mark with 13 seconds left in the first. FDU would take that 35-34 advantage into the halftime break, despite the Bulldogs leading by five with 3:39 to play in the frame, 30-25.
It was the last advantage the Bulldogs would see, as the Knights controlled the opening four minutes of the second stanza, outscoring the Black and Gold, 9-2, to rush out to a 44-36 lead. FDU wouldn't look back from there, and while Bryant closed the lead to two, 49-47, on a Starks 3-pointer with 11 still to play, the visitors would build a six-point edge back up as the clock ticked under seven remaining.
A three from Maynard near the corner cut the deficit to five, 57-52, inside the final four minutes, but Bryant wouldn't get back on the board in the remaining 3:51, as FDU outlasted the Bulldogs for the 63-52 final margin.
Bryant shot just 29.6 percent from the field to FDU's 40.8 percent clip. The Knights were stellar from long range, converting on nearly 60 percent of their shots (13-22), while the Bulldogs went just 5-for-18 from beyond the arc. Bryant won the rebound battle, 38-36.
With the loss, the Bulldogs are still looking for their final win needed to clinch an NEC Tournament spot for the second-straight season. Maynard's 17 points leave the senior just 14 shy of the 1,000th of his career as well.
The Bulldogs close out the home portion of their 2013-14 regular-season schedule Saturday against Central Connecticut at 4:05 p.m. The contest, which will be aired live on Cox Sports and the Ocean State Network, is the second half of an NEC doubleheader and will also serve as 2014 Senior Day.