Bryant Men's Hoops Beats Salve Regina In Home Opener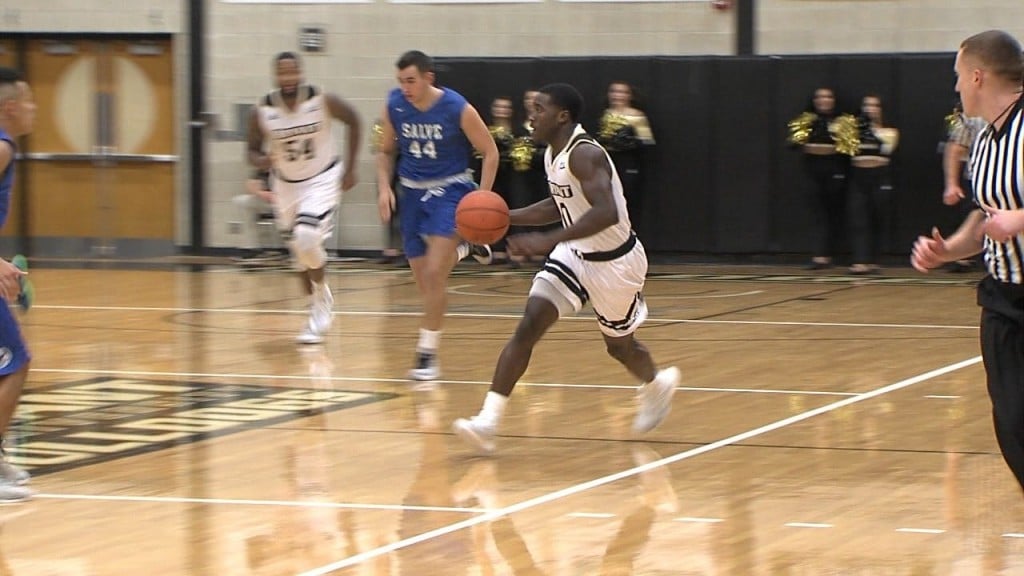 Bryant University Press Release
SMITHFIELD, R.I. – The Bryant University men's basketball team spread the ball around in the home opener, as 11 players scored to help build a lead that was as high as 32 in Tuesday's 88-61 win over Salve Regina.
"I think tonight was a really good experience for our guys to see quality minutes and be able to play at more of a fast pace," said head coach Tim O'Shea. "We have such a young team so it was nice being able to play them extended minutes and we got to work on a lot of things we wanted see us improve on in games."
The freshmen high school teammates led the way for the Bulldogs (1-1), as guard Adam Grant (Norfolk, Va.) and Sabastian Townes (Norfolk, Va.) each tallied 16 points with the latter grabbing a team-high eight rebounds. Sophomore Nisre Zouzoua (Brockton, Mass.) netted 13 points and pulled down four rebounds, freshman Ikenna Ndugba (Boston, Mass.) tallied 10 points and four assists, and junior forward Gus Riley (Nelson, New Zealand) added 11 points off the bench.
"It was great being able to play so many different guys and have 11 guys score tonight," said O'Shea. "I thought the freshmen played excellent once again and everyone as a whole gained more experience and hopefully more confidence as well."
Nicholas Bates paced the Seahawks (0-1) with a game-highs of 25 points and 11 rebounds. Rodney Morton netted 13 and Kevin Mannix and Isaiah Bowman chipped in seven points apiece.
Bryant opened the game with a 7-0 lead less than three minutes in thanks to five points from Grant. But the Seahawks scored eight of the next 10 points to trail by just one at the 13:47 mark of the first half, before eventually knotting the game at 11-11 a minute later on a Bates triple.
The Bulldogs were able to extend their lead to seven once again, 23-16, at the 8:24 mark on a Marcel Pettway (North Providence, R.I.) slam on the end of nice pass from Ndugba. Consecutive baskets from Bates made it 23-20 with just under seven minutes to play in the first half, but a deep Zouzoua triple from the left wing on the very next possession ignited a 14-0 Bryant run over a 3:25 span to blow the game open at 37-20.
"I'm grateful for Salve Regina being willing to come play us, and to their credit they made shots in the first half and really competed hard and gave us a battle," said O'Shea. "It's not always easy for a Division III school to have to come play anyone at the Division I level, but they are a gritty team, ran their sets well and challenged us in the opening portion of the game."
The Bulldogs went 5-of-6 during the stretch, as Zouzoua had two treys and junior Hunter Ware (Powder Springs, Ga.) added two layups. Grant paced the hosts with nine first-half points, Zouzoua poured in eight and Riley added six, as all nine Bulldogs that played in the frame tallied points to secure a 42-22 lead at halftime.
The energy held firm in the second half, as the Bulldogs maintained no worse than a 20-point lead for the full 20 minutes. The edge ballooned to as much as 32 and Bryant cruised to a victory to improve its record in home openers to 5-4.
"Any time you can get a win in the home opener it's a great thing and hopefully this will give us some confidence and put us on the right track with some really tough games coming up," said O'Shea.
The Bulldogs will now turn their attention to arguably the toughest challenge they will face all season when they head out to Spokane, Wa. to take on No. 14 Gonzaga Friday at 8:30 p.m. eastern.