Bryant Names Brad Ross as Next Men's Lacrosse Coach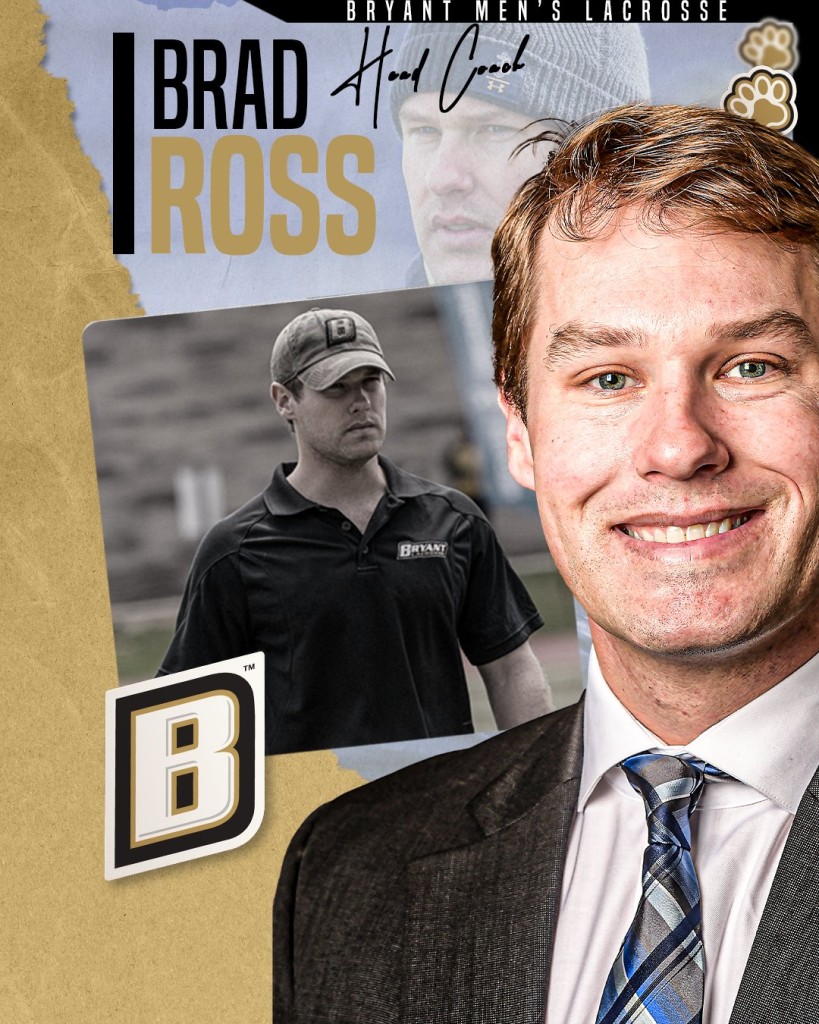 Bryant University Press Release
SMITHFIELD, R.I. – Bryant University Director of Athletics Bill Smith announced Brad Ross as the next head coach of the men's lacrosse program on Monday afternoon.
Ross takes over as the third head coach in program history following Mike Pressler's retirement last week. An associate head coach at Bryant for four years (2011-2014), Ross returns to the Black and Gold after spending the last three years at Navy.
"I am excited to welcome Brad, his wife and their three children to our Bulldog family," Smith said. "I was able to witness his coaching skills first hand when he was at Bryant and helped the Bulldogs win three NEC Championships and defeat Syracuse in the Carrier Dome. Brad checks all the boxes; intelligence, work ethic, passion, character and competitive spirit. Coach Pressler often states that Brad is one of the top five toughest and most competitive student-athletes he's ever coached, and that's exactly what we want in our next head coach."
"This is great news for Bryant University and for our men's lacrosse program," Bryant University President Ross Gittell, Ph.D. said. "Coach Ross brings a very impressive background and extensive experience back to Bryant as our head coach, ensuring a strong future for the men's lacrosse program."
Coach Ross was a three-time All-American at Duke University, graduating with 73 career wins, an NCAA record at the time, and playing in four NCAA Final Fours. On the sidelines, Ross has emerged as one of the premier recruiters and one of the top offensive minds in lacrosse. In his role as an assistant coach at Navy, the Mids produced four top-20 recruiting classes in the four years he was on staff. As the associate head coach and recruiting coordinator at Ohio State, the Buckeyes' 2017 and 2019 recruiting classes were ranked No. 4 nationally. Those two classes included nine "top 100" players according to Inside Lacrosse.
"I am thrilled to return to Bryant University as the head men's lacrosse coach," Coach Ross said. "First, I would like to thank President Ross Gittell and Director of Athletics Bill Smith for this incredible opportunity. Secondly, I would like to profusely thank Coach Amplo, the staff and each of the Midshipmen I have had the pleasure of coaching over the past three years. Coach Amplo has been an incredible mentor and friend to me. I know there are big things ahead for the Mids.
"It's never easy succeeding a legend," Ross continued. "I will work every day to make Coach Pressler, the alumni and the University proud. Coach Pressler and staff have built a strong culture and talented roster. I look forward to leading Bryant Lacrosse into the next era of competing in the America East Conference."
Coach Ross' time at Bryant was one of the most successful four-year runs in program history. The Black and Gold won three Northeast Conference Championships and advanced to two NCAA Tournaments. That run included the 2014 season that produced one of the best teams in program history. Bryant went 16-5, won the NEC Tournament title and defeated Syracuse in the Carrier Dome to advance to the NCAA Quarterfinals.
Ross was part of a staff that developed eight players into eventual Major League Lacrosse draft picks, while also coaching 13 all-conference athletes and two All-Americans. Bryant won 46 games during Ross' tenure and ranked as high as No. 11 nationally.
Ross left Bryant following the 2014 season and spent the next five years at Ohio State. He was the offensive coordinator and recruiting coordinator and was promoted to associate head coach in 2016.
During his time at Ohio State, Ross was named the 2017 IMLCA Assistant Coach of the Year and helped the Buckeyes reach the program's first Final Four and NCAA National Championship Game. The Buckeyes produced seven top-5 wins, six top-10 wins and eight top-20 wins. Ross coached six All-B1G offensive selections, including Jesse King (2015) who recorded the most points by an OSU player since 1979.
In 2017, Ohio State averaged 11.33 goals per game and scored 12 or more goals on 11 occasions. The Buckeyes also had an offense that generated nearly 34 shots per game and converted 49.2 percent of its man-up chances.
With Ross leading the offense in 2018, the Buckeyes finished the regular season ranked 29th nationally in scoring offense and 21st in shooting percentage. The Buckeyes scored 10 or more goals in nine of 12 games and three players had 30 or more points on the season.
In 2019, the Buckeyes averaged 11.75 goals per game and stood 29th nationally, while their 30.5 shooting percentage was 19th best in the country. Anchoring the offense was Tre Leclaire who was ninth nationally in goals per game (3.09), while Jack Myers was 29th in assists per game (1.82).
In 2015, Ross' first year at Ohio State, the Buckeyes reached the NCAA Quarterfinals after a win over two-time defending NCAA Champion Duke in the opening round. The Buckeyes averaged 10.0 goals a game on the year and scored nine or more goals in eight of the last nine games. Senior Jesse King had 77 points, the most for a Buckeye since 1979, en route to earning Third-Team All-America honors, while King and Carter Brown were both named First-Team All-Big Ten. The Buckeyes scored 9.4 goals a game in 2016, tallying double digits in six games, including three of the last four.
While at Navy, Ross helped the Mids rank as high as No. 20 in the nation in 2021 and produce some of the top offensive numbers in Navy history.
In his first season, the Mids finished No. 40 in the nation and No. 4 in the Patriot League in scoring offense, averaging 11.80 goals per game. It marked the first time since 2007 (11.00) that a Navy team would close out the year averaging double digits. The Mids' 20.00 points per game stood 28th nationally and marked the best average since 1978 when Navy averaged 23.07 points per game. Navy's 8.20 assists per game stood 20th nationally and was the best average since 1978 when it averaged 8.77 per contest.
Once again, the Mids' extra-man offense was among the best in the country in 2021. Navy was ranked 10th, scoring on 13 of its 30 opportunities for a 43.3 conversion rate. As a team, the Mids shot 30.4 percent, targeting 97 goals on 319 shots. It's the first time Navy has finished inside of the top 20 in shooting percentage since 2012 when the Mids finished 13th with their 31.1 shooting efficiency (109G, 351 Sh). Though their goal production was roughly one goal less than in the shortened 2020 campaign, the Mids finished the 2021 season 35th in scoring offense – their best finish since 2016 (33rd, 9.88GPG).
Ross started his coaching career at Brown University in 2010, helping the Bears win a share of the Ivy League Championship.
Ross was a two-time captain (2008, '09) and three-year starter at midfield for Duke. During his five-year career with Duke, he was a part of three ACC titles (2007, '08, '09) and the squad reached the NCAA Semifinals four times, including a berth in the National Championship game twice. Ross produced 102 points for the Blue Devils (76g, 26a) and was a three-time All-American.
Ross played professionally for four years before retiring because of medical issues prior to the 2013 season. He was a member of two Major League Lacrosse championship teams, winning the title with Toronto in 2009 in his first year as a pro and with Boston in 2011. Ross, who saw action in 40 regular-season MLL games in his career, scoring 46 goals and 70 points, was selected for the 2011 MLL All-Star Game. He was a second-round choice of Toronto in the 2009 MLL Draft.
A two-time USILA Scholar All-American, Senior CLASS Award first-team honoree and ACC All-Academic Team selection, Ross graduated from Duke with a bachelor's degree in sociology in 2008. Using his final year of eligibility to work toward a graduate degree, he earned a master's degree in humanities with a concentration in ethics from his alma mater in 2009.
Ross and his wife, Nicole, have two daughters, Bodie and Dempsey, and a son, Cade.
Bryant University is a top national leader for return on higher education investment (ROI), according to the newly released Georgetown University Center on Education and the Workforce (CEW) scorecard. Bryant ranks in the top 1% (No. 46) nationally of the  4,500 schools included in the study and among the top 5% (No. 10) of colleges and universities in New England. "The new national ranking represents Bryant's steep ascent from No. 76 in 2019 to No. 46 in 2022, a jump of 30 positions. Bryant is No.1 on the list of Rhode Island schools. Bryant also features some of the top athletic facilities in college lacrosse with the David '85 and Terry Beirne Stadium Complex, the Bulldog Strength and Conditioning Center, and the Conaty Indoor Athletic Center.
What they're saying about Coach Ross
Mike Pressler – Retired Bryant Men's Lacrosse Coach"I could not be more thrilled, more overjoyed, more excited with the announcement of Brad Ross being named the new head men's lacrosse coach at Bryant University. I had the privilege to recruit and coach Brad at Duke University. As a player, nobody was tougher, more physical, more competitive and more determined than Brad Ross. In those categories, I would have him in my top-5 all-time. As a coach, he is an incredible teacher of the fundamentals and very innovative. He is an outstanding communicator and relationship builder. His diverse experience as an offensive coordinator at four very different institutions will serve him well moving forward now as a head coach. Coach Ross is a tireless recruiter and has a very keen eye for talent. Bryant University and Bryant Lacrosse just got better today. Congratulations to coach Ross, his wonderful wife Nicole and their three beautiful children. Can't wait for them to call Smithfield home. The future of Bulldog lacrosse as it enters the America East Conference next spring is in great hands. Cheers to coach Ross and Nicole. My wife Sue and I could not be happier for them and the players too. Go Dawgs!"
Joe Amplo – Head Coach at Navy"I am excited for Brad, Nicole and their three beautiful children. The Ross family will wrap their arms around the Bryant Lacrosse program, and Brad will lead them to great heights. His success at every stop of his career is remarkable and he leaves Navy in a better place than he found it with his sights set on success at Bryant."