Bryant Picked Fourth In NEC Preseason Football Poll, Four Bulldogs Named To Preseason All-NEC Team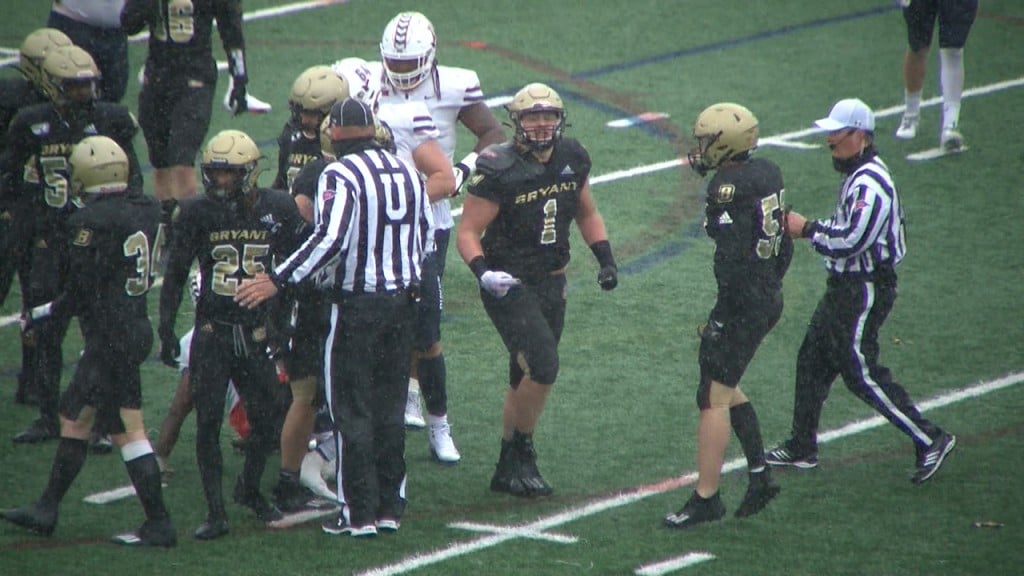 Bryant University Press Release
SOMERSET, N.J. – Four members of the Bryant University football team were named to the Preseason All-Northeast Conference team Tuesday as part of the league's annual #NECFB Social Media Day.
The virtual event signifies the unofficial start of the college football season. Daniel Adeboboye, Jack Daly, Joe Andreessen and Andre Brackett all earned Preseason All-NEC accolades.
Adeboboye enjoyed an outstanding spring season, earning All-NEC First Team honors after averaging 111.3 yards per game on the ground. He ranked seventh nationally in rushing, becoming the first Bulldog since 2015 to average over 100 yards per game. Adeboboye posted two 100-yard games, rushing for 141 yards at Merrimack and 178 yards against Duquesne.
Daly was also an All-NEC First Team selection in the spring after posting 15.0 tackles, 2.5 sacks and 3.5 TFLs. One of the most disruptive defensive linemen in the league, Daly averaged 3.8 tackles per game, posted 11.0 total tackles over the final two games of the season.
Andreessen earned All-NEC honors in the spring despite only competing in two of the four games due to injury. The first two games of the season were more than enough for Andreessen as he averaged 12.5 tackles per game and 7.5 TFLs. Andreessen notched 17.0 tackles and 4.5 TFLs in the first game at LIU and then had 8.0 tackles and 3.0 TFLs at Merrimack.
After earning All-NEC First Team honors as a defensive back and kick returner in the spring, Brackett repeats those accolades on the Preseason All-NEC team. He posted 9.0 tackles and was one of the league's top shutdown corners. As a returner, Brackett averaged 40.0 yards per return and posted a long return of 65 yards.
In addition to the Preseason All-NEC teams, the NEC Preseason Coaches' Poll was also announced. Bryant was picked to finish fourth, coming in behind defending champion Sacred Heart, Duquesne and Central Connecticut.