Bryant Rallies To Win on Senior Day, James Perry's First Year Ends on Four Game Winning Streak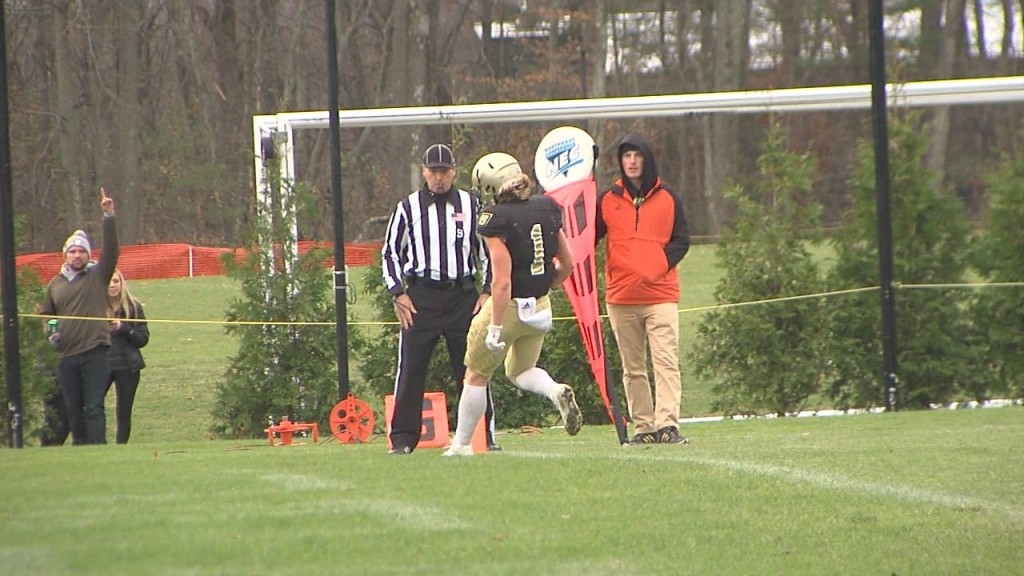 Junior Thomas Costigan (Stamford, Conn.) posted a career-high 16 tackles, while senior Tom Kennedy (Farmingdale, N.Y.) and junior Vincent Nisivoccia (Nutley, N.J.) each posted 100-yard receiving games as the Bryant University football team ended its season with a thrilling 38-29 victory over Duquesne on Saturday afternoon at Beirne Stadium.
The win extended the Bulldogs' (6-5, 4-2 NEC) win streak to four games and secured the Black and Gold a winning record for the first time since 2014. Bryant finished the game with just 387 yards of total offense but averaged 6.6 yards per play against one of the league's top defenses. The Dukes (7-4, 4-2 NEC) lost for the third-straight week.
Costigan's performance capped a memorable season and helped the Black and Gold defeat the NEC's second-ranked offense. He had 16 tackles and a half sack, finishing the season with a program-record tying 11.5 sacks. Co-captains Dillon Guthro (Newburyport, Mass.) and Kevin Lazo (Pembroke Pines, Fla.) enjoyed their best games of the season, combining for 17 tackles, a sack, two tackles for a loss, three pass breakups and a blocked field goal.
Redshirt junior quarterback Price Wilson (Marietta, Ga.) completed 19 passes to just four receivers for 329 yards and three touchdowns. Kennedy hauled in nine for 125 yards and a score, while Nisivoccia recorded his first-career 100-yard game, finishing with 115.
GAME INFORMATION
Bryant 38, Duquesne 29
Records: Bryant (6-5, 4-2), Duquesne (7-4, 4-2)
Location: Beirne Stadium | Smithfield, R.I.
Attendance: 983
COACH PERRY'S COMMENTS
"I couldn't be more proud in all of my years of coaching. You love teams that practice and work hard, and this team is the epitome of that. I'm very thankful and I know the Bryant community is very thankful for their (the seniors) efforts. I'm excited for us to be able to finish strong."
KEY MOMENT
Down 29-26 and facing 4th-and-7 from the Duquesne 48, Wilson fired over the middle and senior Matt Sewall (Portsmouth, R.I.) went up and made a beautiful catch to haul it in for a 19-yard gain and a first down. Two plays later, Wilson found Sewall for an 11-yard touchdown to give the Bulldogs the lead for good.
HOW IT HAPPENED
Duquesne opened the scoring on Saturday, driving 60 yards in 11 plays on its first drive. Tommy Stuart connected with Nehari Crawford from two yards out to make it 7-0.
Bryant answered on its next possession as Wilson threw a perfect pass to the Bryant sideline that Nisivoccia hauled in. He then broke down field for a 75-yard touchdown. The PAT was no good, leaving Bryant down 7-6.
It remained 7-6 until Carter Henderson intercepted Wilson and returned it 21 yards for a touchdown with 7:35 left in the first half. The PAT was no good.
Once again, Bryant would score points on its very next drive. Nisivoccia posted a 33-yard catch-and-run to help the drive and sophomore Gavin Rowley (Hempstead, Md.) kicked a 39-yard field goal to make it 13-9 with 4:45 left in the half.
Guthro then blocked a Duquesne field goal on the next drive, giving Bryant the ball at its own 24. The Bulldogs then benefited from three Duquesne penalties to put the ball Duq 29. After back-to-back completions, Wilson kept the ball and ran into the endzone from four yards out to make it 16-13.
Duquesne came out in the second half and dominated the third quarter. The Dukes drove 74 yards in 12 plays and then 92 yards in 12 plays to take a 26-16 lead with 2:41 left in the quarter. Stuart scored on one-yard run and then connected with Crawford for an 11-yard TD.
The Black and Gold needed just one play to get back in the game. After a 31-yard return by Nisivoccia, Kennedy caught a screen pass and then exploded down the middle of the field for a 50-yard touchdown catch to make it 26-23.
Duquesne would answer with a field goal but Bryant's 10-play, 85-yard drive made it 30-29 with 9:54 left. Sewall's 19-yard catch on fourth down extended the drive and he capped it with his 15th-career touchdown.
Sophomore Tomas Wright (St. Augustine, Fla.) sacked Stuart to force a Duquesne punt and the Bulldogs needed just four plays to go 51 yards. A facemask penalty on Duquesne opened the drive and Kennedy followed with back-to-back catches to put the ball at the Duq 2. Senior Jake Wiswall (Great River, N.Y.) then plowed his way into the endzone before converting the two-point conversion as well.
Sophomore Jesse Nemerowicz (Hudson, Mass.) put the finishing touches on the game with an interception with 3:42 left in the game.
STATS
The Bulldogs posted 22 first downs and 387 yards of total offense. Bryant averaged 6.6 yards per play.
Bryant had the ball for just 23 minutes and ran just 59 plays.
Wilson was 19-of-32 for 329 yards, three touchdowns and an interception. He also rushed for a touchdown.
Wiswall led Bryant with 37 yards on 14 carries.
Kennedy posted nine catches for 125 yards and a touchdown.
Nisivoccia had three catches for 115 yards and a touchdown. Nisivoccia also rushed for 17 yards, returned three kicks for 76 yards and finished with a career-high 208 all-purpose yards.
Sewall caught four passes for 49 yards and a touchdown.
Redshirt sophomore Jean Constant (Delray Beach, Fla.) had four catches for 40 yards.
Costigan led the defense with 16 tackles, 10 solo.
Guthro made a season-high 10 tackles, broke up three passes and blocked a field goal.
Lazo made seven tackles and had 1.5 tackles for a loss.
Wright posted 1.5 sacks.
Nemerowicz and freshman Andre Brackett (East Windsor, Conn.) each posted interceptions.
GAME NOTES
Bryant closed the season on a four-game winning streak, its longest since it won five straight during the 2014 season.
The Bulldogs finished 4-2 in NEC play for the second-straight year.
Bryant's 6-5 record is its first winning record since 2014 and its fifth in 10 years as a DI program.
Bryant blocked its eighth kick of the season. That is the second most in the nation.
Wilson became the first QB in school history and just the second in NEC history to throw for over 3,000 yards in a single season. He finished with 3,311 passing yards.
Bryant set an NEC record with 305.8 passing yards per game.
Wiswall scored a touchdown for the second-straight week after not having scored in his collegiate career.
Nisivoccia set a career-high with 208 all-purpose yards. He averaged 38 yards per catch.
Kennedy finished the season with 57 catches for 888 yards and nine touchdowns. Those total rank third, fourth and tied for second in program history.
Kennedy closed the season with a touchdown in each of the final eight games.
Sewall's touchdown reception was the 15th of his career, moving him into sole possession of third place in school history.
Constant finished the season with 1,633 all-purpose yards, fifth-most in a single season in program history.
Costigan's 16 tackles were a career high. He became the second player in program history to post 100+ tackles in a single season, finishing with 103.
Costigan also tied a single-season program record with 11.5 sacks.