Bryant rolls over Assumption 34-7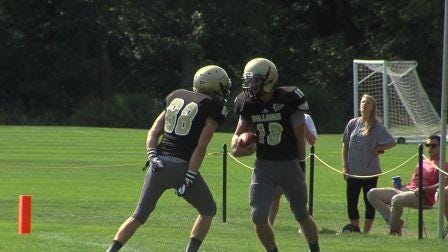 The Associated Press
SMITHFIELD, R.I. (AP) _ Jose Depadua's touchdown return on a blocked punt for Bryant sparked a landslide 34-7 victory over Assumption Saturday at Bulldog Stadium.
Depadua's 35-yard return put the first points on the scoreboard for Bryant (2-0) in the first quarter, and his 20-yard catch three minutes into the second stretched the Bulldog's lead 14-0. In the third quarter, Bryant converted a second blocked punt into a touchdown with a 2-yard return by Chad Ward. The Bulldog's defense held Assumption to just 170 total offensive yards. The Greyhounds struggled on third down conversions, completing 1 of 15 attempts.
James Ward scored the only touchdown for Assumption (0-1) on a 2-yard run early in the third quarter. Saturday's game was the first of the season for the Greyhounds, who are coming off a 3-7 season.
The Bulldog's win marks the first 2-0 start to a season since 2010.