Bryant U. Basketball coach comes out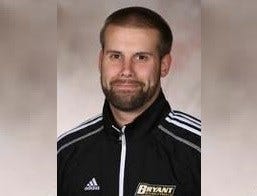 By Kirsten Glavin
kglavin@abc6.com
@kirstenglavin
Chris Burns, the Assistant Men's Basketball Coach at Bryant University, broke ground by coming out as gay not only to his team, but the entire league.
"There's going to be good, there's going to be bad. But you've got to trust yourself. You've got to find that place where you know no matter what, you're comfortable with who you are and you know that this decision is right. And that's where I'm at," Burns told USA Today.
He's the only one to come out of the closet in the entire coaching staff of Division One Men's and Women's Basketball. Many Bryant University students showed their support.
"I think people were happy for him. I think people on the team and people around campus are generally happy for him. Even alumni I saw on twitter were pretty happy so I think it's very good," said Bryant University Football player, Paul Taylor.
Others said the Bulldog coach is paving the way on campus, as well as in the sport.
"It's a step in the right direction for people who are looking to come out. If they were scared before and just didn't want to come out, he's breaking the ice. Other than that, good for him," said Bryant University student, Gryegorz Snioch.
Davis Foster, another student, agreed, adding "I think it's a step in the right direction for the league. I'm not opposed to it at all. It's definitely not a bad thing."
Burns is a former Bulldog himself, sinking 282 three-pointers over his college career. He played in the Division 2 National Championship game as a Sophomore.