Bryant Wins Slugfest With LIU To Open NEC Tournament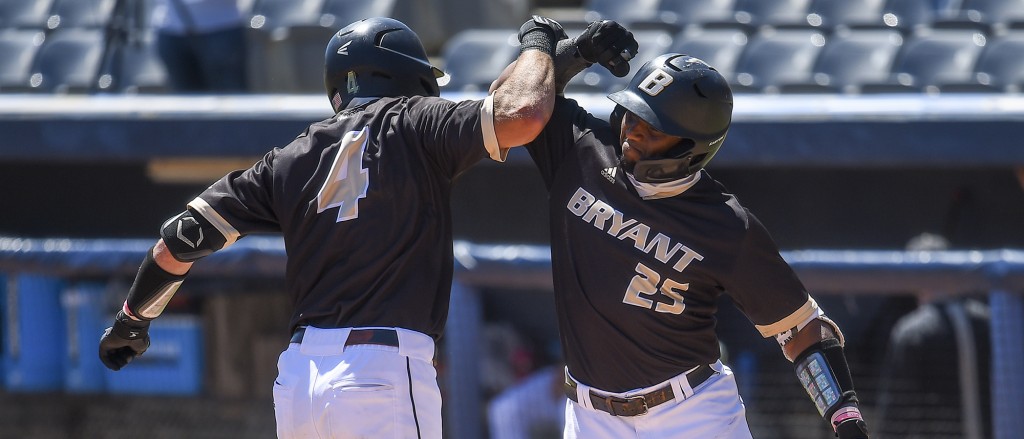 (Photo courtesy: Bryant Athletics/Steve McLaughlin)
Bryant University Press Release
NORWICH, Conn. – The top-seeded Bryant University baseball team scored seven times in the sixth inning to break a 4-4 tie and went on to earn a 17-13 victory over fourth-seeded Long Island in the first game of the 2021 Northeast Conference Baseball Championships.
With the victory, the Bulldogs advance to Friday's winner's bracket game against the winner of Thursday's second game between No. 2 Central Connecticut and No. 3 Sacred Heart.
On Thursday, NEC Player of the Year Liam McGill had four hits and tied an NEC Tournament record with six RBI to lead a 20-hit attack. Derek Smith added four hits and three RBI, Matt Woods tied a tournament record with four runs scored and James Ciliento and Shane Kelly hit back-to-back home runs in the Bulldogs' seven-run sixth.
NEC Pitcher of the Year Tyler Mattison struck out nine over 7.0 innings to earn his 10th victory of the year. He allowed four runs on six hits and walked two.
Game Information
Bryant 17, Long Island 13
Records: Bryant (26-12-1), LIU (20-14)
Location: Dodd Stadium (Norwich, Conn.)
W|L|S: Tyler Mattison (10-3) | Sal Ferro (0-2)
Key Moment
LIU brought in a lefty to face Woods with two outs in the 6th and Woods greeted him with an RBI double to right center to give Bryant a 5-4 lead. The Bulldogs would score six more times with two outs.
How it Happened
LIU opened the scoring on Thursday as EJ Exposito hit a three-run home run over the batters eye in center in the top of the third.
Bryant quickly answered, scoring twice in the bottom of the inning. A walk and a single put two on and Smith brought both home with a double to left center.
The Black and Gold erased the deficit and took their first lead with two more runs in the fourth. A throwing error and a walk put two on and Jake Gustin greeted reliver Mike Andreoli with a game-tying single to center on a 2-2 pitch. McGill followed with a sac fly to make it 4-3.
The Sharks tied the game in the top of the sixth on a pair of doubles.
In the bottom of the inning, Tommy DiTullio reached with a one-out single and was at second with two outs when LIU went to the bullpen for a lefty to face the lefty hitting Woods. Woods came through, ripping an 0-1 pitch into right center to make it 5-4.
After a walk extended the inning, McGill lined a two-run double into right center to make it 7-4. Smith followed with an RBI single to center and Ciliento hit a laser over the wall in left to make it 10-4. Kelly followed with a towering solo home run to left to close the big inning.
Bryant added six more runs in the seventh. Gustin drove in a run with a sac fly and McGill hit a moonshot to left field for a three-run home run. Kelly and Damaurys Rodriguez closed the scoring with RBI hits.
LIU scored nine times in the ninth to close the scoring.
Stats
Bryant outhit LIU, 20-10.
McGill went 4-for-4 with a home run, six RBI and three runs scored.
Smith had four hits, three RBI and two runs scored.
Woods had double, walked twice and scored four times.
Ciliento and Kelly combined for a pair of home runs, five hits, four RBI and three runs scored.
DiTullio and Nicolas both scored twice and Gustin drove in two.
Mattison allowed four runs on six hits and struck out nine over 7.0 innings.
Jackson Harrigan tossed a scoreless eighth.
Game Notes
McGill collected his second four-hit game of the year and drove in a career-high six runs.
McGill has reached safely in all 34 games he's played this season.
McGill also hit his league-leading ninth home run and now has a league-leading 50 RBI.
McGill's six RBI tied the NEC Tournament single-game record set by Josh Vittek in 2008.
McGill continues to lead the nation in hitting, batting .484.
Gustin has now reached safely in 29-straight games.
Gustin leads the Bulldogs with 19 multi-hit games.
Smith matched his career high in hits for the second-straight game.
Woods tied the NEC Tournament single-game record with four runs scored.
Ciliento played in his 200th career game and now has 239 career hits, 153 RBI and 177 runs scored. The home run was the 22nd of his career.
Kelly collected his eighth-career three-hit game.
Mattison earned his career-high 10th win. He is now 24-9 in his career.
With 10 wins, Mattison becomes just the third different pitcher to win 10 games in a season.
Mattison now has 95 strikeouts this season, the fourth-most in a single season in DI program history.
Mattison has struck out 233 batters in his career, fifth-most in DI program history.
Up Next
Bryant will face the winner of the CCSU/SHU game on Friday afternoon at 4:00 p.m.