Bryant's Peter Kiss Named Co-NEC Player of the Week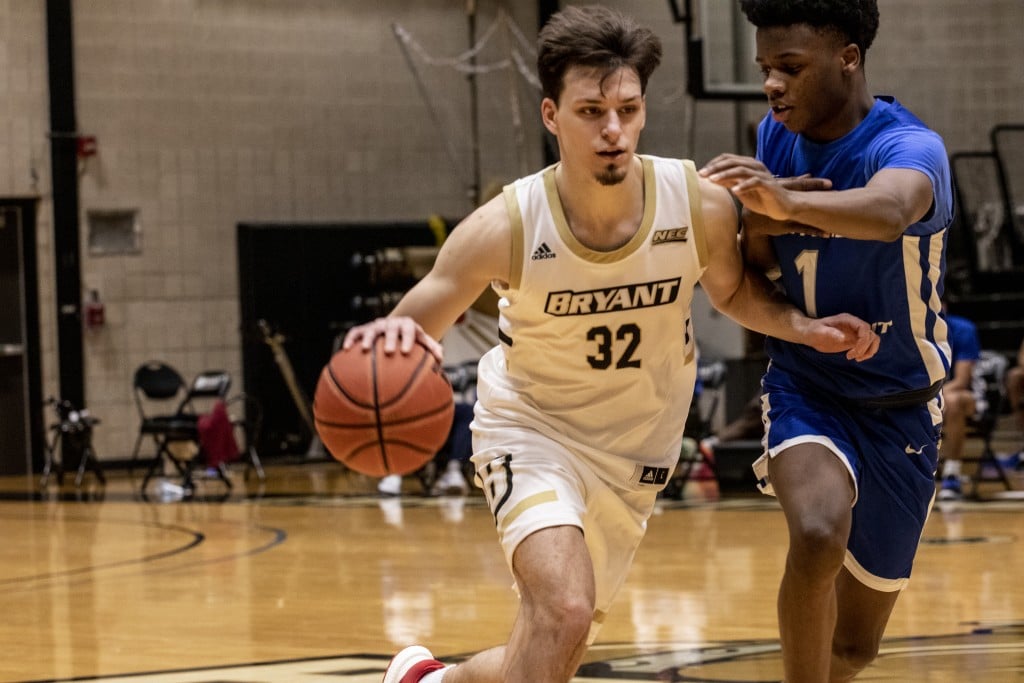 Bryant University Press Release
SMITHFIELD, R.I. – Bryant University men's basketball redshirt senior Peter Kiss has been named the Northeast Conference Player of the Week presented by Pilot Pen on Monday.
Kiss claims his second NEC Player of the Week honor of the season for a red-hot Bryant squad that improved to 5-1 in conference play with a home sweep of CCSU. Kiss did it all for the Bulldogs, supplying 19.5 points, 10.0 rebounds, 6.5 assists and 3.5 steals per game, while hitting 53.6 percent from the field and 87.5 percent from the line.
In Thursday's 93-68 win over the Blue Devils, Kiss became the first player in DI program history to record a triple-double with 12 points, 13 rebounds and 10 assists. He followed with a career-high 27 points on 11-16 shooting, and added seven rebounds, three assists and four steals in a 76-64 victory on Friday.
Kiss ranks among NEC leaders in no less than eight major statistical categories, including scoring (17.8, 5th), rebounds (5.7, 17th), assists (3.3, 10th), steals (2.5, 4th), FG percentage (53.5, 11th), FT percentage (.840, 4th), 3P percentage (.419, 8th) and 3P made (1.6, 12th).
In addition, Kiss and junior Chris Childs were named #NECPrimePerformers. Childs averaged 19.5 ppg in the two wins, scoring a season-high 20 in Thursday's win. He followed that with 19 on Friday and finished the two-game series shooting 52 percent from the field, 42 percent from three and a perfect 9-of-9 from the line.
The Bulldogs hit the road this week for a pair of games at Saint Francis U on Thursday and Friday. Thursday's game will air on ESPN+.