Bryant's Saddler, Mukendi Earn NEC Weekly Honors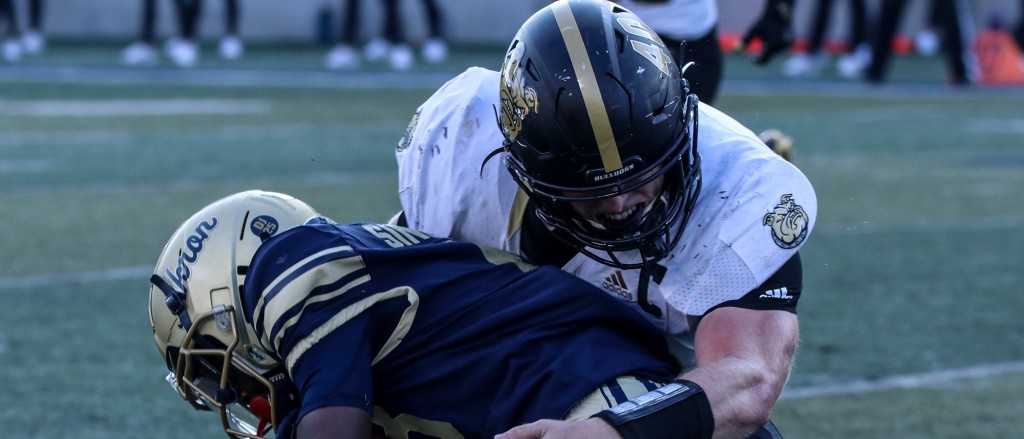 Bryant University Press Release
SOMERSET, N.J. — Bryant University football senior Ryan Saddler and freshman Fabrice Mukendi took home Northeast Conference weekly honors on Monday afternoon.
Saddler was named the NEC Defensive Player of the Week and Mukendi was tabbed NEC Rookie of the Week. The duo spearheaded Bryant's efforts on Saturday against FBS-member Akron.
Saddler was on his horse making plays all over the field in Bryant's first-ever game against an FBS program. The senior linebacker totaled 12 tackles (10 solo), one forced fumble and one fumble recovery in a setback at Mid-American Conference member Akron. One of the key reasons why the two teams were locked at a 14-14 stalemate after three quarter, Saddler made driving-ending plays in the red zone before and after halftime.
Mukendi stepped up for Bryant on a big stage, totaling 109 all-purpose yards in the program's first-ever game against an FBS member. The first-year Bulldog totaled a team-high 79 yards from scrimmage at Mid-American Conference member Akron. Mukendi rushed 14 times for 56 yards and one touchdown. He also made three receptions for 23 yards through the air. His one-yard touchdown plunge (and ensuing PAT) tied the score at 14-14 with 5:21 left in the third quarter. Mukendi returned one kickoff for 30 yards, starting Bryant at the 40-yard line on an eventual touchdown drive early in the second quarter.
Bryant returns to the gridiron this Saturday at Marist. Kickoff is set for 6:00 p.m.