Bryce Cotton and Billy Baron Named AP Honorable Mention All-America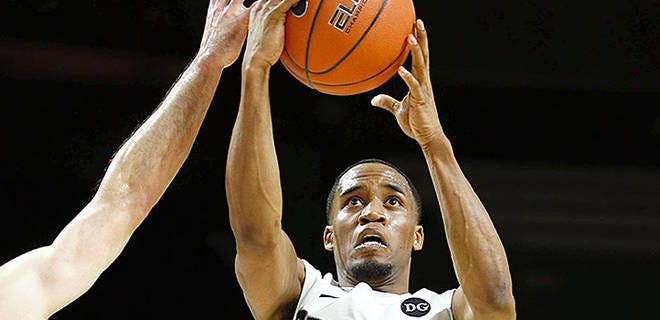 PC star Bryce Cotton and former URI star Billy Baron of Canisius have been named AP Honorable Mention All-America.
PC news release…
PROVIDENCE, R.I. – It was announced on March 31 that Providence College senior guard Bryce Cotton (Tucson, Ariz.) was named a 2014 Associated Press Honorable Mention All-America. Cotton is the first Friar to earn Associated Press All-America accolades since Marshon Brooks was named to the Third Team in 2011.
In the last month, Cotton earned a number of honors, including BIG EAST Tournament Most Outstanding Player, First Team All-BIG EAST, Lute Olson All-America Team, NBC Sports.com Second Team All-America, NABC All-District 5 First Team and USBWA All-District 1 First Team.
Cotton earned the honors after leading the BIG EAST in assists with 6.1 apg in league contests. The senior also ranked second in the BIG EAST in scoring (21.8 ppg, 23.4 ppg BIG EAST play). He ranks ninth in the nation in scoring this season at 21.8 ppg.
Cotton led the nation in minutes played, averaging 39.9 minutes. He averaged 41.9 minutes per BIG EAST contest. This season Cotton established the Providence College record for minutes played in a season at 1,398.
Cotton scored 20 or more points in 26 of the 35 games he played in this season, including a career-high 36 points versus North Carolina on March 21 in the Second Round of the NCAA Tournament. He finished his career ranked fourth all-time in scoring at Providence (1,975 points).
Cotton became just the fifth player from a major conference to average 20 or more points and five or more assists in a season since 2002. Cotton averaged 21.8 ppg and 5.9 apg (19th in the nation). The four players that accomplished this since 2002 were Jason Williams of Duke (21.3 ppg, 5.3 apg in 2001-02); Tyrese Rice of Boston College (21.0ppg, 5.0 apg in 2007-08); Evan Turner of Ohio State (20.4 ppg, 6.0 apg in 2009-10) and Nolan Smith of Duke (20.6 ppg, 5.1 apg in 2010-11).
2014 Associated Press All-Americans:
First Team
Doug McDermott, Creighton, 6-8, 225, senior, Ames, Iowa, 26.9 ppg, 7.0 rpg, 52.5 fg pct, 45.4 3-pt fg pct, 86.6 ft pct (65 first-team votes, 325 total points).
Jabari Parker, Duke, 6-8, 235, freshman, Chicago, 19.3 ppg, 8.8 rpg (55, 303).
Russ Smith, Louisville, 6-0, 165, senior, Brooklyn, N.Y., 18.3 ppg, 3.4 rpg, 4.7 apg, 40.5 3-pt fg pct, 2.1 steals (54, 298).
Shabazz Napier, Connecticut, 6-1, 180, senior, Roxbury, Mass., 17.4 ppg, 5.9 rpg, 4.9 apg, 85.9 ft pct, 1.7 steals (37, 254).
Sean Kilpatrick, Cincinnati, 6-4, 210, senior, Yonkers, N.Y., 20.7 ppg, 4.4 rpg, 2.6 apg, 84.7 ft pct (37, 243).
Second Team
Nick Johnson, Arizona, 6-3, 200, junior, Gilbert, Ariz., 16.2 ppg, 4.0 rpg, 2.8 apg, (30, 228).
Andrew Wiggins, Kansas, 6-8, 200, freshman, Vaughan, Ontario, 17.4 ppg, 6.0 rpg (14, 199).
Nik Stauskas, Michigan, 6-6, 205, sophomore, Mississauga, Ontario, 17.5 ppg, 3.1 rpg, 3.3 apg, 44.9 3-pt fg pct, 82.0 ft pct, (5, 128).
Melvin Ejim, Iowa State, 6-6, 220, senior, Toronto, 18.1 ppg, 8.5 rpg, 1.8 apg, 50.6 fg pct, (8, 127).
T.J. Warren, N.C. State, 6-8, 215, sophomore, Durham, N.C., 24.8 ppg, 7.1 rpg, 52.5 fg pct, 35.2 minutes, 1.8 steals, (7, 110).
Third Team
Cleanthony Early, Wichita State, 6-8, 219, senior, Middletown, N.Y., 15.8 ppg, 5.9 rpg, 2.0 apg, 84.4 ft pct (3, 104).
Kyle Anderson, UCLA, 6-9, 230, sophomore, Fairview, N.J., 14.9 ppg, 8.8 rpg, 6.6 apg, 48.1 3pt fg pct, 1.8 steals (84).
Julius Randle, Kentucky, 6-9, 250, freshman, Dallas, 15.0 ppg, 10.5 rpg, 50.2 fg pct (81).
C.J. Fair, Syracuse, 6-8, 215, senior, Baltimore, 16.7 ppg, 6.2 rpg (3, 65).
Scottie Wilbekin, Florida, 6-2, 176, senior, Gainesville, Fla., 13.0 ppg, 2.6 rpg, 3.8 apg, 40.0 3-pt fg pct, 1.7 steals (3, 59).
Honorable Mention (in alphabetical order)
Karvel Anderson, Robert Morris; Cameron Ayers, Bucknell; Cameron Bairstow, New Mexico; Billy Baron, Canisius; Jerrelle Benimon, Towson; Taylor Braun, North Dakota State; De'Mon Brooks, Davidson; John Brown, High Point; Bryce Cotton, Providence; Joel Embiid, Kansas. Tyler Ennis, Syracuse; Aaron Gordon, Arizona; Langston Hall, Mercer; Gary Harris, Michigan State; Tyler Haws, BYU; R.J. Hunter, Georgia State; Jordair Jett, Saint Louis; Shawn Jones, Middle Tennessee; DeAndre Kane, Iowa State (1 first-team vote); J.J. Mann, Belmont.
Javon McCrea, Buffalo; Daniel Mullings, New Mexico State; Aaric Murray, Texas Southern; Marcus Paige, North Carolina; Jacob Parker, Stephen F. Austin; Lamar Patterson, Pittsburgh; Adreian Payne, Michigan State (1); Casey Prather, Florida; Wesley Saunders, Harvard; Marcus Smart, Oklahoma State (1). Juwan Staten, West Virginia; Keifer Sykes, Green Bay; Xavier Thames, San Diego State; Fred VanVleet, Wichita State (1); Jameel Warney, Stony Brook; Davion Weber, Weber State; Alan Williams, UC Santa Barbara; Pendarvis Williams, Norfolk State; Patric Young, Florida.