Bryce Cotton Leads Friars to the Big East Tournament Championship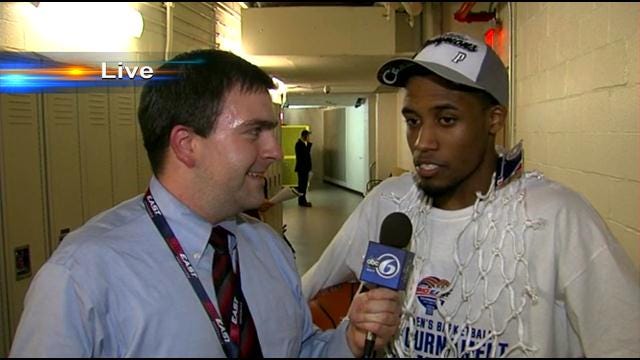 Providence beats Creighton 65-56 to win Big East
By JIM O'CONNELL=
AP Basketball Writer=
NEW YORK (AP) _ Bryce Cotton scored 23 points and Providence won its first Big East tournament title since 1994 with a great defensive effort against Doug McDermott and No. 14 Creighton in a 65-58 victory Saturday night.
The fourth-seeded Friars (23-11) used a 2-3 zone to hold the second-seeded Bluejays (26-7) 24 points below their season average and to an 8-for-30 effort from behind the 3-point line.
Cotton, the senior guard who finished second to McDermott in the conference scoring but was also a unanimous first-team All-Big East selection, was the scoring star in the championship game and he was selected the tournament MVP.
McDermott, who came in leading the nation in scoring with 26.5 average, finished 10 for 19 from the field, including 5 of 12 from 3-point range, for 27 points.
AP-WF-03-16-14 0336GMT