Bucknell Men's Lacrosse Too Much For Bryant To Handle At Home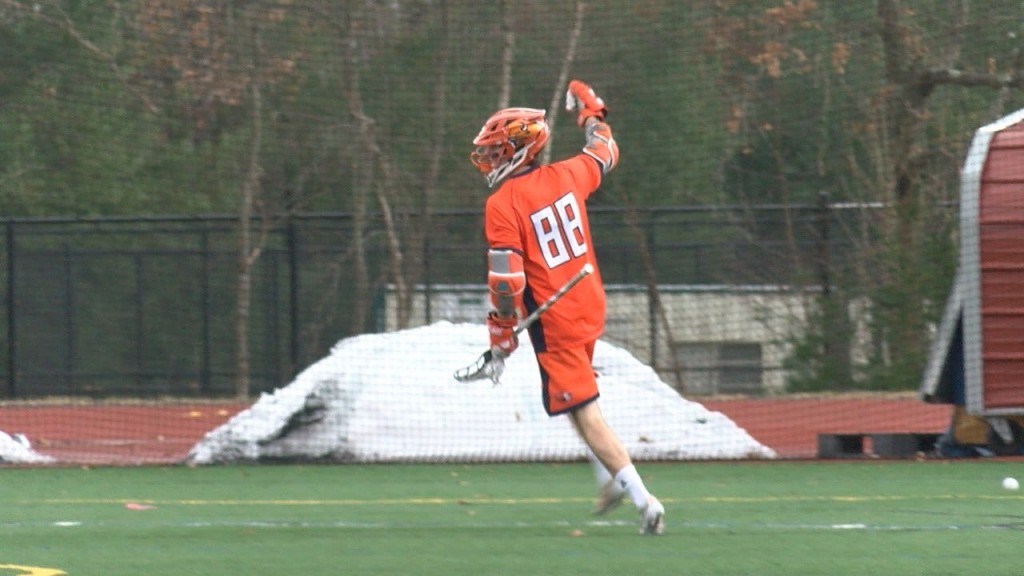 Bryant University Press Release
SMITHFIELD, R.I. – Senior Tom Kennedy (Farmingdale, N.Y.) scored three goals, while senior Cam Ziegler (Carlsbad, Calif.) added a career-high five assists, but the Bryant University men's lacrosse team fell to Bucknell, 14-12, Saturday at the Bryant Track & Turf Complex.
Juniors Matt Heldberg (Kings Park, N.Y.) and Kevin Quigley (Fairfax Station, Va.) matched their career-highs with two goals each, while sophomore Zach Coffey (West Newbury, Mass.)recorded his first two collegiate goals.
GAME INFORMATION
Bucknell 14, Bryant 12
Records: Bryant (1-1), Bucknell (2-0)
Location: Bryant Track & Turf Complex (Smithfield, R.I.)
COACH PRESSLER'S COMMENTS
"I was really disappointed with our start, especially defensively. We were watching them play in that first quarter. We take great pride in getting out of the box early, and give credit to Bucknell, they did that to us. I thought the key in the game was that we could never cut it to a one-goal game. We had numerous chances. I thought that was the difference."
"Kenny Massa was not as dominant as last Saturday, but was still pretty darn good. That's two games where he's won the battle there. I couldn't be more impressed with his play."
"I was impressed by our resiliency. We kept battling. That's who we are. We were down five and cut it to two, had a couple chances to cut it to one, had those opportunities but didn't make those plays."
KEY MOMENT
Bryant cut it to 8-7 on Coffey's second goal of the game, but Bucknell responded with four straight goals to give the Bison a 12-7 advantage with 14:39 to go.
HOW IT HAPPENED
Bucknell opened up a 5-1 first-quarter lead before Quigley scored the final goal of the opening quarter to bring the Bulldogs within 5-2 after 15 minutes.
The Bulldogs scored the first three goals of the second quarter, as freshman Marc O'Rourke (Hingham, Mass.), Coffey and Quigley scored three goals in 29 seconds to tie the game 5-5.
The Bison responded with three straight goals to take an 8-5 lead at the half.
Goals from Kennedy and Coffey brought the Bulldogs back within 8-7 before the Bison rattled off four straight goals to push their lead to five.
Bucknell extended its lead back to 14-9 before Bryant scored three straight goals, as Kennedy, sophomore Trevor Weingarten (Allendale, N.J.) and O'Rourke cut the deficit to the final 14-12 margin.
STATS
Kennedy scored three goals and was joined by four players with two goals each – Coffey, Heldberg, O'Rourke and Coffey.
Coffey added three ground balls and two caused turnovers, while Quigley recorded two caused turnovers.
O'Rourke added a career-high five ground balls.
Ziegler recorded a career-high five assists and added a ground ball.
Senior Jake Chandler (Charlotte, N.C.) recorded a career-best four ground balls.
Graduate student Kenny Massa (Huntington, N.Y.) was 19-of-30 at the X with 11 ground balls.
Bryant outshot Bucknell, 41-36.
GAME NOTES
Bryant drops to 1-5 against Bucknell.
Massa has a .703 face-off percentage through two games this season.
The Bulldogs have had five players score two goals or more in back-to-back games to open the season.
UP NEXT
Bryant returns to action Saturday, Feb. 17, for a game at Providence. The 1 p.m. start can be seen on Cox YurView in Rhode Island.