Buddy Cianci play "The Prince of Providence" opens at Trinity Rep.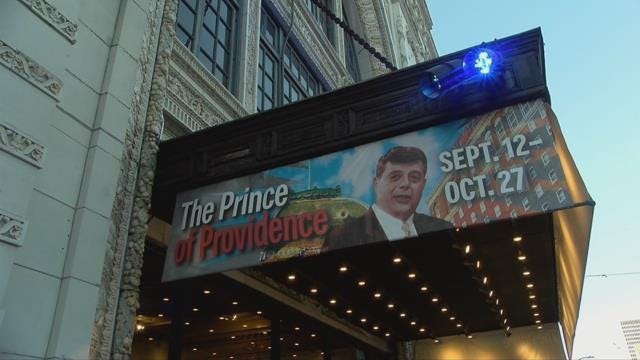 By: Ellie Romano
Email: ERomano@ABC6.com
Twitter: @ERomanoABC6
PROVIDENCE, R.I. (WLNE) – "The Prince of Providence" play opened to the public Monday night at Trinity Repertory Company. The show chronicles the life and political career of longtime Providence mayor Vincent "Buddy" Cianci.
The play is an adaptation of Mike Stanton's book of the same name.
The play spans 30 years and follows Cianci's career through the highs and lows.
"You see both sides of Buddy," said Tom Parrish, Trinity Rep.'s executive director. "He is a very complex character, almost Shakespearian."
It was no secret that Cianci thought "The Prince of Providence" book painted him in a bad light. Parrish said the play is a balanced version of the story.
"You'll see the pros and cons of his leadership, and then you as the audience decide where you come down on that," said Parrish.
Many of the audience members in attendance for opening night knew Cianci personally.
"I hope they paint him in a great light because he was well deserved of it," said Mark Bedrossian, who was Cianci's bandleader.
Others only knew Cianci as the city's charismatic, yet infamous mayor.
"He would go to the opening of an envelope, that's what we always heard growing up," said audience member Maggie Whelan.
Whether you loved him or hated him, Parrish said you will learn something new about him through the play.
"People who love Buddy will question that love, and people who hate buddy will question that hate during the course of this play," said Parrish.
"The Prince of Providence" is already Trinity Rep.'s highest-selling show of all time that's not "A Christmas Carol."
It's in such high demand the theater extended the play's run an extra week. For ticket information, click here.