Budget talks to resume at 2 p.m. Wednesday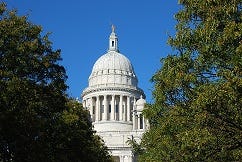 Dee DeQuattro
After over 10 hours of debate on the $8.2 billion budget the Rhode Island House of Representatives recessed for the night and will resume negotiations at 2 p.m. on Wednesday.
It wasn't until the clock ticker toward midnight that the most controversial part of the budget was, the 38 Studios bonds, was heard. Some lawmakers argued passionately that Rhode Island should ignore the moral obligation it has to pay back almost $90 million dollars in bonds stemming from the failed 38 Studios deal. In the end the measure to not pay back the bonds failed in a 20-54 vote.
The state budget commits $2.5 million dollars in fiscal year 2013 to paying back the bonds used to fund Curt Schilling's failed video game company. After that the state would plan to make yearly payments of $12.5 million.
The budget debates ended when lawmakers could not reach a decision whether to forgo a $12.9 million contribution to the state's pension system. Some legislators argued that the state should not pay the 38 Studios bonds and instead pay the additional pension payment.
Lawmakers in the East Bay celebrated as the House approved a plan to stall the tolls on the Sakonnet River Bridge until April. The plan intends for lawmakers to use the delay to find an alternative source of revenue to fund bridge repair.
The session ended after 1:30 a.m. when Speaker of the House Gordon Fox noted that nothing good happens after 1:30 a.m. and that all the lawmakers should take some time to think and revisit the issues on Wednesday.
(C0 WLNE-TV 2013