Bullying Forces Attleboro Teen to Withdraw from AHS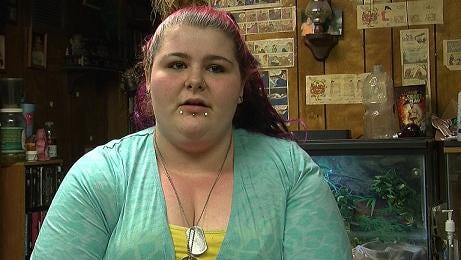 A teenager's thoughts of suicide forces a mother to pull her daughter out of Attleboro High School. A 16-year-old girl says she was bullied so badly at school, she'd fight with her mom every day to stay home. Her mother says a facebook post finally convinced her things were out of control.
According to the Center for Disease and Control Prevention, Suicide is the third leading cause of death among young people. A study in Britain found at least half of suicides are related to bullying.
16-year-old Noelle-Marie Harrington is happy to say she didn't become part of that statistic.
Everyday Harrington would ask herself, "why are they doing this to me, why me?"
For 16-year-old Noelle-Marie Harrington, waking up in the morning meant facing her biggest fear, her classmates.
"I would have a panic attack between every single class, and before school, and before I went to bed at night thinking about what was going to happen the next day," explained Harrington.
Harrington's mom says it started in 7th grade and followed her to Attleboro High School.
"She is openly gay, she has no problem with anybody knowing it," said Corrinne Harrington.
Harrington says the bullying towards her daughter was verbal and physical. Recalling a recent incident where she says a student pointed a laser pen at her daughters eye, which she says temporarily blinded her.
Noelle-Marie describes the incident.
"One of the kids just goes why are you mad, why are you mad, and I said well you're trying to hurt me," she explained.
Harrington says one student was suspended from school, but the Assistant principal, Elizabeth York, would not comment on the laser incident or the student's punishment.
The school did however release a statement saying: "Every allegation that has been brought to our attention has been fully investigated and all of our anti-bullying policies have been followed."
Its' this response, that Linda McMullen of the Rhode Island Parent Information Network, says undermines the seriousness of bullying.
McMullen says, "the principal has to own it, the police officer, the parent, the teacher, if everybody's on this track these bullies, they won't win."
Harrington says her last straw was a facebook post in which her daughter considered suicide.
Noelle-Marie admits she though about if her bullies would care if she was no longer alive.
"I don't like living like this. I'd hate to see anybody else live like this. I wouldn't wish this on my worst enemy," said Harrington.
Harrington officially withdrew from Attleboro High School on February 27th. Her mother enrolled her in a psychiatric program to deal with the thoughts of suicide. She tells us she already feels better about herself having been out of school for two weeks. Her advice to anyone who's been bullied, is to talk about it.