Burrillville gym abruptly closed: AG looking to get in touch with owner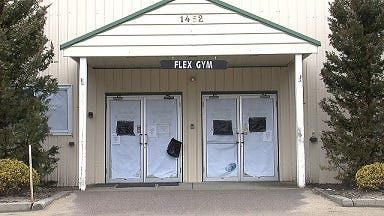 By: Samantha Lavien
Twitter: @samanthalavien
The Attorney General's office is looking to get in touch with the owner of a Burrillville gym after it abruptly shut down over the weekend.
The owner of Flex Gym left a note on the door saying the closure is because of the landlords non–renewal of the lease. The note also says that up to three months of membership will be honored by another gym nearby.
Both staff and members say they weren't given any notice.
"I was just here the day before, Friday, and nothing there were no signs anywhere or anything," said gym member David Silva.
Many say the owner was accepting money for memberships up until the final day the gym was open.
"There was a woman who came in on Friday she gave $200 in cash and then he closed Friday night," said gym member Courtney Lacey.
"My girlfriend was a member here and she just paid her membership, just last month and she lost $250," said gym member Todd Gaucher.
Staff members tell ABC 6 News they received a text late Friday night informing them of the closure. Many members found out Saturday morning.
"Definitely completely shocked along with every other member," said gym instructor Joleen Rambone.
The Attorney General's Office has received several complaints since the closure. ABC 6 News did reach out to the owner but has not heard back.
"The hardest part is we really trusted the owner, we thought he was a good guy," said Lacey.
Anybody who believes that they may have lost money is asked to contact the Attorney General's consumer protection unit. If you'd like to file a complaint you can do so at www.riag.ri.gov.
©WLNE-TV / ABC6