Businesses benefit from drug sweep in Kennedy Plaza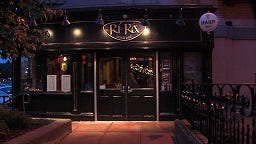 By: Alexandra Cowley
A massive undercover sting takes dozens of drug dealers off the streets of Kennedy Plaza. It's all part of the city's effort to make downtown Providence more inviting. Restaurants like Ri Ra that have outside seating, also require outside bouncers, to keep unwelcomed guests out that spill over from Kennedy Plaza.
If you ask anyone that walks through Kennedy Plaza at night, and most agree, it's not exactly the safest place to be.
"There's a lot of like drug addicts down here and like pill poppers,"said Yolanda Robertson.
Alejandro Mordasini says, "It's definitely not the safest place for females."
It's that perception that's bad for business. Patrick Coen is general manager of Ri Ra. He says the plaza's bad reputation is driving people away from his restaurant.
"Yeah, it's affecting business, there's no other way to say it, it simply is," he said.
Coen explained, "Cars on top of the street since we opened in 2000 constantly get broken into."
The city has gotten an overflow of these complaints and is trying to change it.
"We do not want that kind of element in Kennedy Plaza,"said Public Safety Commissioner Steven Pare.
The Providence Police Department arrested 21 people in an undercover sweep for dealing heroin, and pills, as well as gun possession, including a sawed off shot gun.
Mayor Angel Taveras said, "We are sending a message to residents, businesses, and visitors, that we are revitalizing downtown to make a vibrant, cultural, and commercial gateway to providence."
City leaders say it's their first step to turning this into a place people want to come to. Coen is ready for the change, so his customers can sit outside and not be bothered.
Coen said, "Youre sitting on the patio with your kids, and some guys coming up, and stinks of body odor and is half drunk, and looking for money, it's not the image you want to give of your place you know what I mean."
Police still have 16 more active arrest warrants to serve from this drug sweep. After that, they plan to put more uniformed patrols in the area to make people feel more safe.
(C) WLNE-TV 2013