Navy nixes Blue Angels at air show, shows fate in question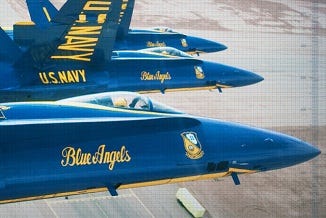 Dee DeQuattro
Bye, Bye, Blue Angels.
The premier demonstration at the Quonset Air Show will not be flying over North Kingstown this year.
The United States Navy announced on Tuesday that all the squadron's remaining flights for the 2013 season have been eliminated due to budget concerns.
The Air Show board will be convening at some point in the next 48 to 72 hours to decide if the Rhode Island Air Show will go on despite the cancellation of the Blue Angels. Lt. Colonel Peter Parente of the Rhode Island National Guard said the show is very popular starting at 9 a.m. when the gates even though the Blue Angels do not perform until 3 p.m. Despite the constant crowd at the air show, there is concern that without the Blue Angels local vendors may decide not to attend.
Parente said that people can expect some type of formal announcement regarding the fate of Rhode Island's Air Show in the next couple days. The show has been running since 1991 at the Quonset Air National Guard Base with the Blue Angels as the premeir performance.
Without the Blue Angels, Parente said other aircrafts in the lineup may also not be attending including a single f-18 Hornet that comes to the show with the Angels.
In a press release the U.S. Navy said, "Recognizing budget realities, current Defense policy states that outreach events can only be supported with local assets at no cost to the government. This is one of many steps the Navy is taking to ensure resources are in place to support forces operating forward now and those training to relieve them."
The defense department faces heavy cuts as a result of the sequestration cuts enacted in March. The navy said that the squadron will continue to train at its home station in Pensacola, Florida and in the future the aerial demonstrations will continue as "the budget situation permits."