Cambridge Shines, Okolie's Clutch Points Lead Brown Men's Basketball Past Columbia In OT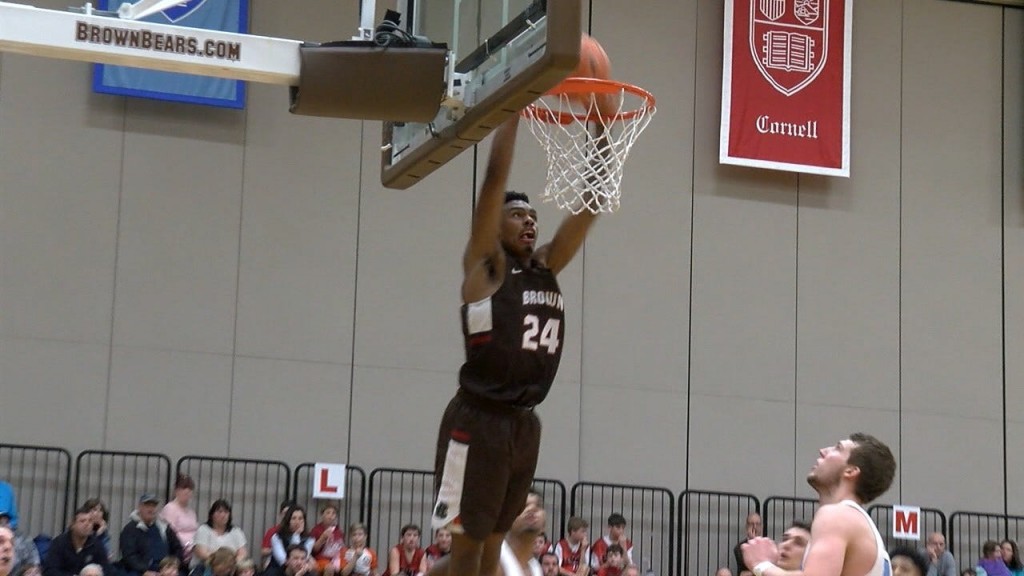 Brown University Press Release
Providence, R.I. – Trailing 88-86, Brown junior Obi Okolie (Ajax, Ontario) knocked down a trey from the corner with 9.3 seconds remaining and then connected on two free throws with 2.8 seconds left to lift the Bears to a 91-88 overtime win over Columbia Saturday evening at the Pizzitola Sports Center.
The win keeps the Bears in a tie for third place in the Ivy League standings with a 4-4 Ivy mark, 11-10 overall. Columbia falls to 6-15, 3-5 in Ivy play.
In overtime, Brown trailed 88-85 with 23 seconds remaining following two free throws by Lions' guard Mike Smith.
Bears' guard Brandon Anderson (Mahwah, NJ) was fouled going to the basket with 13 second left on the clock. He made the first and his missed second free throw was grabbed by Brown freshman Tamenang Choh (Lowell, MA), who kicked the ball out to Okolie in the corner for the game-winning trey with 9.3 seconds left on the clock.
Smith drove the lane with four seconds left, but his shot was off the mark with Okolie grabbing the rebound. Okolie iced the game with two free throws with 2 seconds remaining.
"That was college basketball at its best," said a euphoric Brown coach Mike Martin after the game. "It wasn't always pretty, but in the end, we made one more play than they did. Tamenang and Obi made an unbelievable play at the offensive end and we backed it up with a stop at the other end."
Brown trailed 74-73 with 2:36 left in regulation and grabbed a 77-74 lead after back-to-back baskets by Anderson, the last with 19 seconds left. Following a Columbia timeout, Smith connected on a trey with five seconds remaining to send the game into overtime.
Freshman guard Desmond Cambridge (Nashville, TN) had 23 points to pace the Bears on 10-of-20 shooting from the field, six rebounds and four steals. He put on an aerial display with four dunks, but left the court with an undisclosed in jury with 6:07 left in the game.
Anderson finished the game with 17 points and five assists, while sophomore guard Zach Hunsaker (Orem, UT) had 15 points, connecting on 5-of-9 treys. Choh matched his career high with 12 points, scoring seven points after Cambridge left the game, and grabbed seven rebounds overall.
Okolie's 11 points came on 3-of-6 shooting from the field. He added five assists and seven rebounds.
Smith paced the Lions with 22 points, while Gabe Stefanini added 20 points. Lukas Meisner posted a double-double for the Lions with 20 points and a game high 12 rebounds, while Quinton Adlesh finished with 15 points.
The Bears fell behind by 10 points early in the game, 17-7, after a layup by Smith at the 16:01 mark.
Brown found its shooting touch and led by as many as eight points, 36-28, with 2:28 remaining in the half following a three-point play by Cambridge. A late free throw by Meisner cut the Bears lead to 36-29 at the half.
Brown is back in action again next weekend, playing Harvard on Friday, February 16 in Boston, MA, broadcast live on NESN and the ILN, and Dartmouth on Saturday, February 18 in Hanover NH, broadcast in the ILN. Both games tip-off at 7:00 pm.