Thousands of Cans of Support for Rhode Island's Hungry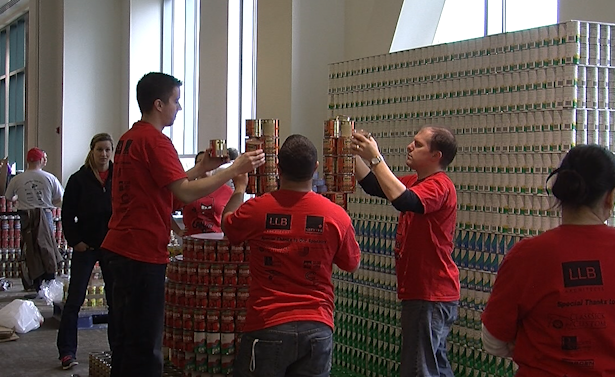 In an atrium inside Providence Place Mall, teams of architects, construction professionals, and team sponsors began the final stage of their plan: assembling regular cans of food into beautiful works of art, the culmination of hours of planning and designing.
The last day of March is the first day that sculptures from the fourth annual "Canstruction Rhode Island" event in Providence are open to be viewed by the general public.
Teams used hammers, scotch tape, power drills, and their own hands to assemble stacks of canned food into colorful displays. One team worked on a nearly ten-foot tall sculpture of the video game "Angry Birds", while another team assembled cans of soup into the shape of a birthday cake, to commemorate the 30th anniversary of the Rhode Island Community Food Bank.
One team member said an incredible amount of planning went into designing the sculptures, which had to go through several stages of development before construction was approved.
As the teams were working, a steady stream of people walked through the construction site. Most were trying to get through the atrium to the mall's shops, but many couldn't help but meander towards the canned-food construction being done by Canstruction R.I.'s seven teams.
"People who come through this exhibit are floored by the incredible imaginative ideas, it's a tremendous creative effort," said Cindy Elder, Director of Communications for the Rhode Island Community Food bank.
The exhibit is designed to raise public awareness of the problem of hunger in Rhode Island.
Each month, the food bank says, more than 60,000 people receive assistance from Rhode Island Community Food Bank. According to the food bank, one in three is a child under the age of 18.
The canned creations will be on display until Saturday, April 14 when the sculptures will be "de-canstructed", and the food will be shipped to the food bank.