Candidates square off in feisty ABC 6 News Debate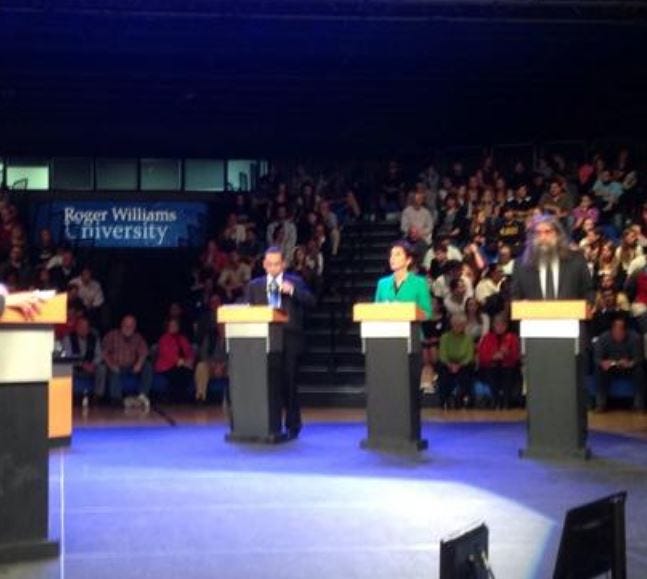 Twitter: @markcurtisabc6
It was a debate that was sometimes polite and some times spirited.
Republican Allan Fung went on the attack, saying Democrat Gina Raimondo spent $7 million on fees to mange the state pension funds, then got poor returns.
"Poor judgment; high fees; should be fired. General Treasurer, the taxpayers of Rhode Island deserve better," said Fung.
Raimondo fired back saying her reforms saved the pension system for all state employees.
"Because Mr. Fung is just lying to the voters and it's very important that voters have the truth. When people play politics with pensions, people get hurt," said Raimondo.
The campaign has gotten very negative in the final days with TV ads where the two front runners attack each other that brought a retort from the moderate party candidate.
"I've watched both their ads and to be honest with you, there is something there I would agree with. I would never vote for neither of them," said Healey.
On other issues, only Raimondo supports repealing the states voter ID law; Healey is the only one considering legalizing marijuana, at this time; and only Fung supports a travel ban to try to stop Ebola in the U.S.
A new Brown University poll has Raimondo and Fung tied with 38% each.
"You know we expected the race to be close and it is close. There's a lot at stake here," said Raimondo.
"You know I am very excited and I'm going to keep getting out there day and night," said Fung.
Brown has 11% undecided, with 12 % for Bob Healey, his highest total yet.
"People who pretty much support third party people, are generally breaking at the last minute," said Healey.
It now appears the race for Rhode Island governor will go right down to the wire.
(C) WLNE/TV 2014