Candlelight vigil remembers homeless women who died on streets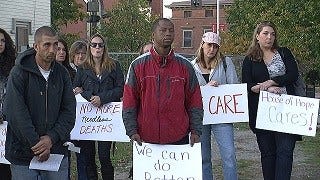 By: Rebecca Turco
Email: rturco@abc6.com
Twitter: @Rebecca_Turco
PROVIDENCE – The RI Coalition for the Homeless held a candlelight vigil in Providence Monday night to remember two local homeless women who died on the city's streets.
Dozens of people gathered at Grace Church Cemetery to pay tribute to Wendy Tallo and Irene Weh. They are two of the seven homeless Rhode Islanders who have died this year out on the streets.
Advocates worry that with the weather about to grow colder, that number could go up. "People dying in our cemetery, people dying on the street – this isn't the answer," explained Barbara Kalil of Providence, who was homeless for about six years. "We need to be doing more."
Kalil told ABC6 that permanent supportive housing for the homeless could be a solution.
The number of homeless people in Rhode Island is at its lowest point since 2007, according to the RI Coalition for the Homeless.
© WLNE-TV 2014