Carlton Fisk Inducted Into PawSox Hall of Fame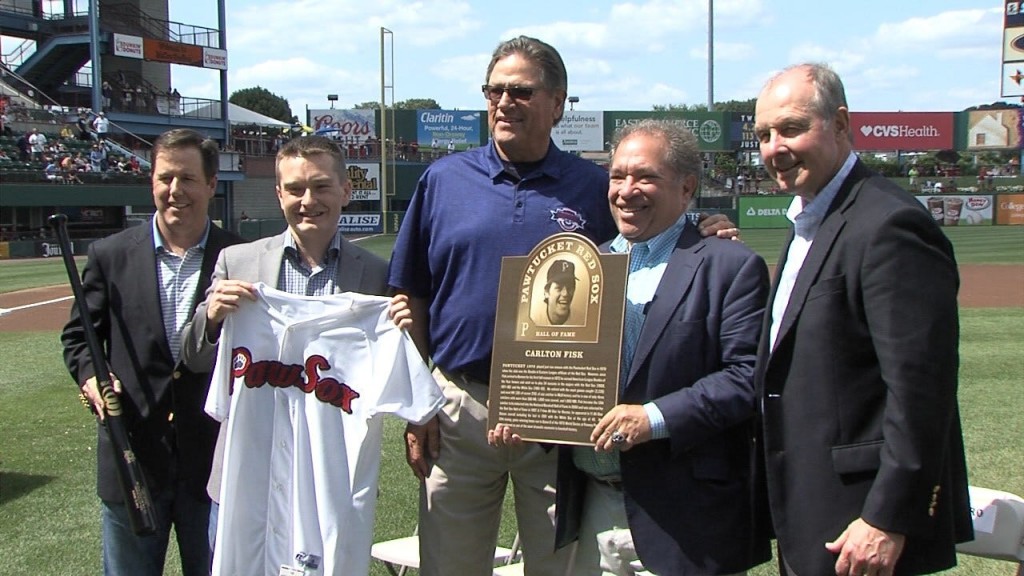 Pawtucket Red Sox Press Release
PAWTUCKET, RI – Baseball Hall of Famer Carlton Fisk's induction into the PawSox Hall of Fame this Sunday, August 27, capped a 3-day Final Weekend extravaganza.
"We hope that seeing Carlton Fisk in person will inspire parents and grandparents to tell the tale of his 'Wave it Fair' home run, as we perpetuate baseball stories from generation to generation. It holds promise to be a memorable way to cap a most rewarding season," said PawSox President Dr. Charles A. Steinberg.
Ceremonies for Fisk, one of the greatest catchers to ever play the game, will begin at approximately 1:15 p.m. The entire 2017 PawSox team is expected to personally meet and congratulate him.
Fisk joins first baseman Mo Vaughn and Manager Joe Morgan, who were inducted in July, in the PawSox Hall of Fame Class of 2017. Outfielder Jim Rice, third baseman Wade Boggs, and longtime PawSox owner Ben Mondor were honored in the inaugural Class of 2016.
Fisk will meet fans for photographs in the CCRI PawSox Fan Center on the main concourse from 2:00 -2:45 p.m. There is no charge for photographs.
Before the game, Fisk will meet fans who attend an exclusive experience with him in the White Tent from 12:15 – 1 p.m. Those tickets, limited in number, included an unlimited barbeque and are on sale for $40 at pawsox.com or by calling 401-724-7300.
The PawSox Hall of Fame inductees were selected by a 15-person panel of print and broadcast media members, longtime fans, historians, and club officials.
"The PawSox Hall of Fame recognizes the most impactful people in club history," said PawSox Executive Vice President/General Manager Dan Rea. "We are especially pleased that our fans once again have the opportunity to celebrate one of our franchise's greatest players, Carlton Fisk. Carlton's induction on Sunday will be a special way to end our home season on at McCoy."
Fisk played just one season with the PawSox in 1970 when the club was Boston's Double-A Eastern League affiliate. In his first full season in the American League, he earned 1972 Rookie of the Year honors and went on to play 24 seasons in the majors with the Red Sox (1969, 1971-80) and the White Sox (1981-93). When he retired, he had caught the most games (2,226) and had hit the most home runs (351 of career 376) of any catcher in the history of Major League Baseball. He remains one of only three catchers with more than 300 HR, 1,000 runs scored, and 1,000 RBI.
Fisk became the 13th catcher to be inducted into the National Baseball Hall of Fame in 2000 and was selected for the Red Sox Hall of Fame in 1997. He was the all-time Red Sox leader in games caught (990), until that mark was broken by Jason Varitek in 2006. A 7-time All-Star for Boston (1972-74, 76-78, 80), he appeared in 11 All-Star Games overall including his last in 1991 with the White Sox at the age of 43.
Fisk's iconic 12th-inning, game-winning home run in Game 6 of the 1975 World Series at Fenway Park is remembered as one of the most dramatic moments in baseball history, and is widely credited with reviving the popularity of baseball and the World Series.
Fisk, who will turn 70 this December, was born in Bellows Falls, Vermont and went to the University of New Hampshire on a basketball scholarship. He committed to baseball after being selected in the 1st round of the 1967 draft by the Red Sox.
Tickets remain for all three of the PawSox Final Weekend games. Fans can visit pawsox.com or call 401-724-7300.