Carter-Williams Leads Cuse To Final Four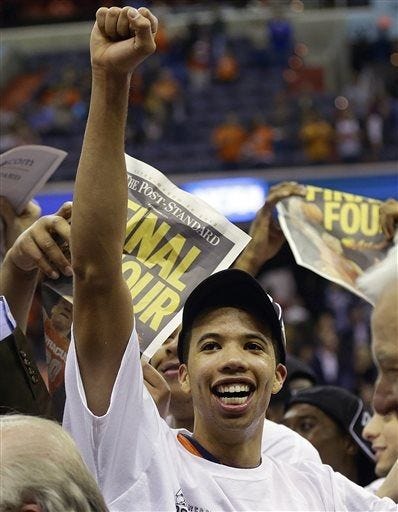 The Associated Press
WASHINGTON — When played to perfection, there's nothing quite like Syracuse's aggressive, half-court 2-3 zone defense.
Using its trapping, shot-challenging 2-3 zone defense to perfect effect, No. 4-seeded Syracuse shut down No. 3 Marquette 55-39 in the East Regional final Saturday, reaching the Final Four for the first time in a decade.
Coach Jim Boeheim and the Orange (30-9) haven't been to the national semifinals since a freshman named Carmelo Anthony led them to the 2003 championship.
Fittingly, a matchup between schools from the soon-to-break-apart, rough-and-tumble Big East became quite a struggle to score. Syracuse was led by senior forward James Southerland's 16 points. Marquette (26-9) hadn't scored fewer than 47 points this season. But with Syracuse playing Boeheim's beloved zone throughout, Marquette kept turning the ball over, seeing its shots blocked or just plain missing.