Casino Concerns Mounting in Foxboro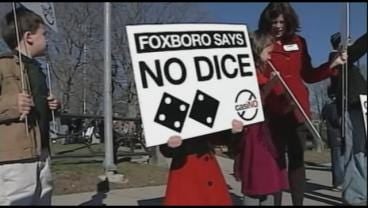 Las Vegas Casino Mogul Steve Wynn was the special guest at the Patriots game Sunday, but he was not there to watch football. Wynn was invited by Bob Kraft gauge interest in developing a resort style casino across from Gillette Stadium.
"It's going to be horrendous! Horrendous," John Murtagh of the Walpole Planning Board said. "You know what comes with casinos, the sleeze that it brings."
Murtagh was one of many not able to make it to the game today, but he says he wants Wynn to keep the impact it would have on Foxboro in mind before deciding to develop. If the casino does land in Foxboro, it would be roughly 50 feet away from Murtagh's property. He says the traffic would make it nearly impossible to get around town.
"I don't mind putting up with it for the patriots and the concerts, but I can't put up with it 7 days a week," Murtagh said.
There is still no official proposal on the table to develop the land. The plan would need to be approved by the town, the state and the NFL.
"They are vehemently opposed to the proposed casino in Foxboro," Town Selectwoman Lorraine Bru said. "I can count a total of 6 comments I've received that are positive."
Bru says she will represent the concerns of the people, but she has to consider both sides.
"There would be jobs. There would be revenue," Bru said. "So certainly there would be benefits identified. Whether they outweigh the concerns of the citizens of Foxboro, that would remain to be seen."
In the meantime, people who live near Foxboro are mobilizing to make their voices heard.
"We do not want this in our backyard," Murtagh said. "You are going to destroy our way of life, the fabric of our lifestyle."