Cat scorched by car's engine recovering, hopes for a home after Thanksgiving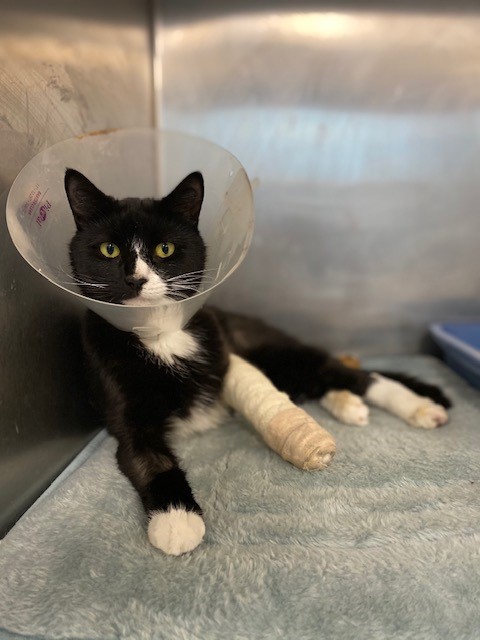 BOSTON, MASS. (WLNE)- The MSPCA-Angell announced Tuesday that "Dale," a three-year-old stray cat making progress towards recovering from severe burns, will be placed up for adoption soon if no owner steps forward.
On October 20, Boston Animal Control brought Dale to the MSPCA-Angell after he was found "meowing in pain" underneath a car's hood after resting on the engine for warmth.
He was not thought to be badly injured before arriving at MSPCA. Upon arrival, the severity of the injuries became more evident.
"After a few days with us, the extent of the burns became more clear," said Dr. Rebecca Fellman of the MSPCA's Boston Animal Care and Adoption Center.
According to Dr. Fellman, it is common for the severity and size of burns to gradually worsen over the days following the initial injury as more and more tissue continues to die.
Because of this, Dale had to undergo several surgeries in order to clean and close the wounds.
"We've been treating him with tissue debridement procedures—removal of dead tissue so that new tissue may heal—as well as with bandaging, antibiotics and pain medication, and even though some of the wounds have not closed because of their size or location, we're hoping they will eventually heal," she said.
Dale is recovering well, and now MSPCA is looking for a home for him.
Dale's friendliness leads them to believe that he has had a home in the past.
"He's really friendly and social so we know he once had a home—and we're hoping that by drawing attention to his plight, an owner may step forward to claim him," said Victoria Odynsky, manager of the MSPCA's Boston adoption center.
However, the lack of identification tags and microchip make it impossible for the center to contact Dale's previous owner.
"Should no one claim Dale, we'll place him into a wonderful loving home as soon as he's medically ready to leave the safety of the shelter," Odynsky continued.
Anyone with information about Dale's owner—or readers interested in adopting—can email the center directly at adoption@mspca.org.
©WLNE-TV/ABC6 2020