CAUGHT ON CAMERA: Man points gun at officers in Springfield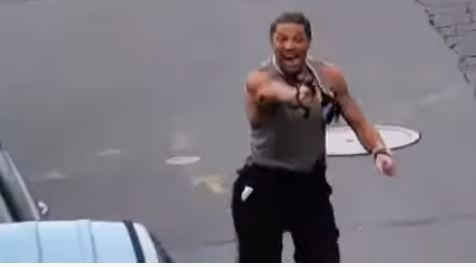 SPRINGFIELD, MASS (WLNE) – Springfield Police released a video of a man pointing a gun at officers just moments after firing off five shots in a neighborhood on Sunday.
The footage from the city's 'shot spotter' system shows Jose Montanez pointing his gun as he attempts to run from the scene.
Police say the 43-year-old   eventually tossed the gun on the grounds of a school before being arrested.
Top Brass at the police department commended the officers who successfully diffused the incident.
Officers say the gun was out of bullets during the time he was on camera but found a second magazine on his waistband.
Police also allege the gun was stolen, and nobody was injured.
Montanez is charged with the following:
Carrying a Firearm without a License
Carrying a Loaded Firearm without a License
Discharging a Firearm within 500 feet of a building
Assault with a Dangerous Weapon
Assault with a Dangerous Weapon
Carrying a Dangerous Weapon on School Grounds
Possession of Ammunition without a FID Card
Receiving Stolen Property Less than $1200
Disturbing the Peace