Cause of Warwick condo fire undetermined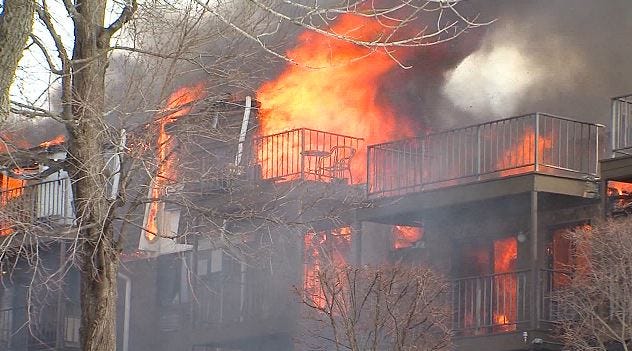 By Rebecca Turco
The State Fire Marshal may have an idea of what may have sparked the massive condominium fire in Warwick that left 100 people without a home, but says the cause is ultimately "undetermined."
A nine page report released detailing some of the ways the fire could have started was discussed today at a press conference held at Warwick City Hall.
What's known from the report is that the fire was started on the third floor of the building. Part of the reason why it was so fast-moving was because the building was undergoing a reconstruction process, leaving a majority of the plaster in the ceiling space removed.
It's not known if a nearby space heater was to blame or electrical outlets and appliances, since a lot of the evidence was lost as fire fighters battled hot spots the evening of the fire and the building had to be torn down for the safety of the crew.
The Fire Marshal noted that the water pressure was an issue in tackling the fire, but his focus was on the origin and cause of the flames.
The building did not in fact have sprinklers because it was grandfathered under a previous code. There is no word yet of the condo managers will be installing sprinklers in the remaining buildings, but the Fire Chief is confident those residents are safe.
Firefighters and police also looked into a letter from an ACI inmate that said the fire was intentionally set—but that was ruled out.
© WLNE-TV 2015