CAUTION: Scam circulating social media claiming to raise money for 2-year-old fighting cancer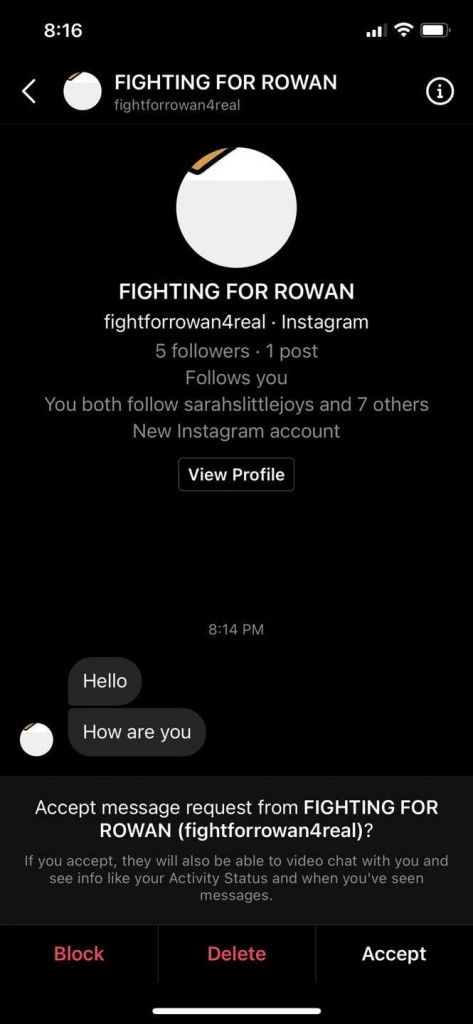 WARWICK, R.I (WLNE) – The Father of the 2-year-old boy battling cancer wants to raise awareness of some very upsetting posts.
Rowan Shaw's father took to Facebook on Tuesday morning to inform people about a scam circulating social media, claiming to be part of a fundraiser for Rowan.
"Last night, I received a text asking what I could do for Rowan," David Shaw, Rowan's dad said. "They claimed to be Rowan's doctor and fundraiser."
One of them, a poorly written text conversation with the scammer pretending to be one of Rowan's doctors and aiding him with treatment.
The scam is also linked to an Instagram and Cash-app in Rowan's name.
"For someone to use a child's face, a sick child's face, for their own personal gains is horrific," Shaw said. "It's disgusting, it's despicable and I'm going to do everything within my reach to stop it."
Rowan's father says he is working on getting them all shut down. He says he called the Warwick Police Department. ABC 6 News confirmed they are investigating.
Police say they have the phone number of the suspect and are working on tracking that person down. They are also investigating to see if anyone fell for the scam and if the suspect will face any charges.
Warwick Police are urging residents to call them if they are contacted by one of the scammers.
"If it's not on our "Fight For Rowan" Facebook page, then it doesn't exist. Our GoFundMe is the only GoFundMe."
ABC 6 News first reported Rowan's story in January. The community quickly rallied to provide support for the 2-year-old boy.
First responders recently rallied for Rowan with a special 'Goodnight Lights' parade outside of his home in Warwick.
"They said it takes a village and our village quickly turned into an entire army," Shaw said.
©WLNE-TV/ABC6 2021