CCSU Sneaks Past Bryant Baseball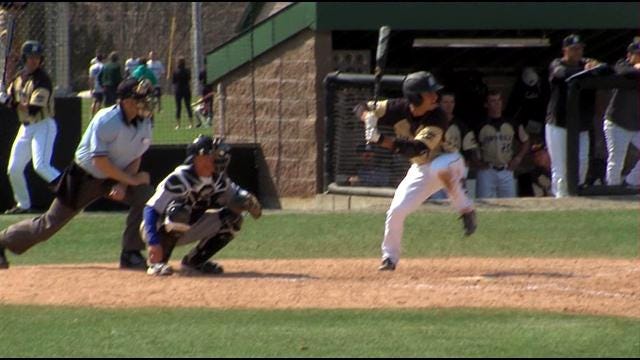 Bryant University Press Release
SMITHFIELD, R.I. – Sophomore right-hander Kyle Wilcox (Sandy Hook, Conn.) struck out a career-high nine batters but Central Connecticut scored three unearned runs to hand the Bryant University baseball team a 3-1 defeat on Sunday afternoon at Conaty Park.
The loss snapped a six-game winning streak for the Bulldogs (22-10, 3-1 NEC) this season and a 12-game streak against the Blue Devils (11-12, 3-5) dating back to the 2011 season. Bryant won the weekend series 3-1.
Bryant struck first as junior Carl Anderson (Sudbury, Mass.) led off the game with a solo home down the left field line. It would be the only blemish to CCSU freshman Matt Blandino's day. The right-hander scattered nine hits, walked one and struck out three.
Wilcox was just as dominant, holding the Blue Devils hitless until the fourth inning. He struck out two in the second and two more in the third before Josh Ingham singled with two outs in the fourth to start a rally. He moved up to second on a passed ball and came around to score on an Anthony Turgeon single to left.
CCSU broke the deadlock in the sixth inning, scoring a pair of unearned runs. With two outs and a runner on first, Turgeon hit a dribbler down the third base line that Wilcox fielded but his throw to first sailed down the right field line, allowing a run to score and Turgeon to advance to third. A wild pitch then plated Turgeon with the third run of the game.
Blandino did the rest for the Blue Devils, allowing just two baserunners the rest of the way. He also eluded some early trouble, picking off a runner at second in the first and getting an infield fly and a weak ground ball to strand a pair of runners in the fourth.
Daniel St. George (Shelton, Conn.) finished 3-for-4 and John Mullen (Walpole, Mass.) and Anderson each chipped in two hits for the Bulldogs. Jonathan Cohen (Norwalk, Conn.) allowed just one hit over 2.1 scoreless innings of relief.
Bryant returns to the diamond on Thursday, April 17 when it travels to Brooklyn, N.Y. to open a four-game series with LIU Brooklyn.