Celebration of Life: Adam Perry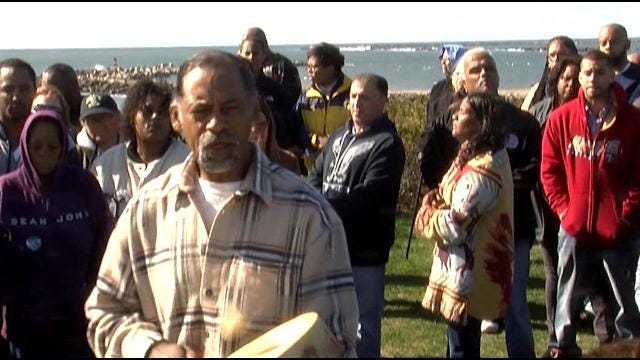 By Dana Griffin
@DanaRGriffin
NARRAGANSETT, RI- It was an emotional Sunday afternoon at Fisherman's Memorial in Narragansett as friends and family celebrated the life of fisherman, Adam Perry Sr.
"This right here is hard for us but I can literally say that we're at ease now," said, Adam Perry Jr.
After two weeks of searching the frigid water off Sakonnet Point, Adam Perry's body was found on the beach in Little Compton.
A boat carrying Perry and two friends capsized earlier this month. His friends were rescued and hospitalized. The family has been on a mission to bring him home; spending thousands on search efforts and enlisting dozens of volunteers.
Manuel Perry, Adam's brother said, "I just want to say to everybody who made this possible, who walked that beach day in and day out and made all kind of contributions– even 5 minutes, ten seconds, gave a nickel, a dime, whatever– it meant the world to us."
Prayers, scattered tobacco and words of encouragement were shared on this hill.
This area was the 51–year-old's favorite fishing spot. For his children, this moment is bittersweet.
"We're gonna do a cremation for him and it's what he wants and he actually wants to be put out to sea, so it is pretty ironic but you know, it's what he wanted," said Adam's daughter, Robyn Smith.
Perry has been inducted into the local fisherman's hall of fame.
The family has collected thousands in donations and they want that money to go to another family that may go through this similar situation.
©2014 ABC6/WLNE-TV. All Rights Reserved.