Celtics Up 2-0, Sox Shock Yanks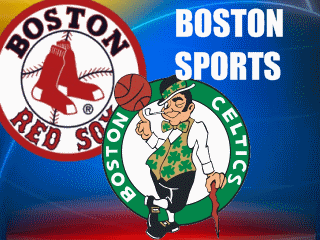 CELTS
ORLANDO, Fla. (AP)—Too slow? Too old?
Try two wins from the NBA finals.
Indeed, the Boston Celtics look like they saved their best this season for when it mattered most.
"I know," Boston's Paul Pierce said. "It's starting to look that way."
Pierce scored 28 points, Rajon Rondo had 25 and the revived Celtics again avoided a late collapse to take a commanding lead in the Eastern Conference finals with a 95-92 victory over the Orlando Magic in Game 2 on Tuesday night.
Boston bullied and bruised its way to a 2-0 series lead on the road against a Magic team that had won 14 straight until this series.
After being hampered by injuries for much of the season, often showing their age, the Celtics are now just two wins away from their second finals appearance in three seasons.
"I think we are becoming the team that started the season," Rivers said. "The team that started the season was pretty good."
Maybe even good enough to take down the defending conference champion Magic.
Dwight Howard had 30 points, and Vince Carter and J.J. Redick scored 16 apiece for the Magic, who overcame an 11-point deficit to take a brief lead in the fourth quarter. But they couldn't hold it.
Jameer Nelson's desperation 3-point attempt airballed at the buzzer, sending fans to the exits in silence.
"I won't stop believing," Howard said. "And I won't let my teammates stop believing."
Game 3 is Saturday night in Boston.
"Our fans won't let us relax," Pierce said. "We're going to try and close it out in four games."
The Celtics buckled down just enough to hold in this one.
Ahead 11 points early in the fourth quarter, that almost wasn't enough. The Magic, just as they did in Game 1, found their rhythm late.
They went on a 13-4 run to trim Boston's lead to 85-83 with about six minutes left. Carter's jumper gave Orlando a 90-89 lead with 3:35 remaining, and then the Celtics summoned their championship form again.
Kevin Garnett and Rondo made consecutive jumpers, and after Nelson made a layup, Pierce answered with two free throws that put Boston ahead by three.
Carter missed two free throws with 31.9 seconds left that cost Orlando dearly. It must have felt all too familiar to Magic fans who watched Howard's damaging misses at the stripe in Game 4 of the NBA finals last year and Nick Anderson's four bricks in Game 1 of the 1995 finals.
"I don't take losses well," said Carter, Orlando's biggest offseason acquisition. "Especially when you're on a team like this. They bring me in to make plays and deliver in crunch time. For me to step up there and miss two free throws, regardless, this doesn't sit well with me."
Only another footnote for Boston's remarkable history.
Two years removed from their 17th NBA championship, the Celtics, once thought too old to contend for another title, have found their footing again. After ousting LeBron James and the Cleveland Cavaliers, the team with the league's best record, Boston is showing no signs of stopping.
"Just think our mindset was to be ready for the type of intensity they would bring after losing at home," Pierce said. "We know the Magic are a talented team and we won't take these two wins for granted."
Before the final heave, Redick also made a crucial mistake by dribbling to half court before calling timeout. That wasted seconds and forced the Magic to take the ball out from beyond half court.
The result was a shot that didn't reach the rim.
"It would have made a big difference," Magic coach Stan Van Gundy said. "We said in the thing to call a timeout. We didn't make the right play there at the end."
Redick took the blame.
"I made a mistake," he said. "I didn't hear the whistle initially. When I didn't hear it initially, I just kind of went, then I realized we should have called a timeout. So that was my fault.
Boston again started fast.
The Celtics, who took a 20-point lead in Game 1, went ahead by 11 in the first quarter. It wasn't until backup center Marcin Gortat(notes) and Howard—a rare combination this season—teamed together that Orlando showed any fight.
With the Magic feeling intense postseason pressure for the first time this year, Orlando went on a 16-2 run behind the two centers.
All the pushing and pulling would finally spill over.
Pierce was knocked in the head hard by Howard on a layup attempt in the second quarter, a punishing display of anger that the Magic center rarely shows. Pierce got up after a minute, clearly upset, his headband twisted to the side. Howard was called for a flagrant foul.
The Celtics would go ahead by five after Howard picked up his third foul moments later. Before they could deliver another big blow, Matt Barnes hit a 3-pointer as the shot-clock buzzer sounded in the final seconds for Orlando to trim Boston's lead to 53-51 at the half.
The Celtics are feeling good, but not overconfident.
"The feeling of the team right now is just focus," Pierce said. "Only thing we did was win two games."
(Copyright 2010 by The Associated Press. All Rights Reserved.)
*****
SOX
NEW YORK (AP)—Jonathan Papelbon made sure the Yankees will need to win their protest for a shot at a victory in this one. The Red Sox closer certainly wouldn't let New York rally again.
A night after blowing a save opportunity, Papelbon stopped the Yankees in the ninth inning Tuesday after Jeremy Hermida hit a tiebreaking, two-run double off Mariano Rivera in the top half, and Boston took advantage of two late errors to rally from an early five-run deficit for a 7-6 victory.
"I was hoping all night long I would get another chance," Papelbon said. "It's a heavyweight fight. They might get one good blow in but they're not going to knock me down."
New York played the game under protest after beleaguered Boston ace Josh Beckett left with back tightness following Robinson Cano's two-run double in the fifth that made it 5-0.
Red Sox pitching coach John Farrell went to the mound and, after a brief discussion, signaled to the bullpen. Boston manager Terry Francona and a trainer walked briskly to the mound when they saw Farrell's gesture.
Beckett missed his previous turn in the rotation due to back spasms. But he said this injury wasn't that serious.
The Yankees claimed there was no indication of an injury to Beckett by that point, but reliever Manny Delcarmen was given all the time he needed to warm up on a wet and chilly night.
"To me, he shouldn't get all his pitches there," Yankees manager Joe Girardi said. "In my eyes it was not done in the right way. Anytime a guy is in trouble, you signal to the bullpen and say, 'Oh, he's hurt.' That's a huge advantage."
An error by right fielder Marcus Thames, who hit the game-winning homer Monday night off Papelbon, helped the Red Sox take the lead in the ninth.
Papelbon closed this one out after midnight, fanning Randy Winn with runners at second and third to end it. At 4 hours, 9 minutes, it was the longest nine-inning game in the majors this season, according to STATS LLC. And that didn't include the 59-minute rain delay at the start.
"It's a hard way to play this way, no question," Francona said of the two straight comebacks and crazy finishes common in this rivalry.
Thames dropped Marco Scutaro's wind-whipped fly with one out in the ninth, putting runners on first and second. One out later, Hermida, who entered for J.D. Drew as a defensive replacement in the eighth, hit a liner over Winn's head in left to put Boston ahead 7-5.
Rivera said the error didn't faze him.
"I got a chance to still do my job to get (Hermida) out and nothing would have happened," Rivera said. "That's part of the game. You still have to get the job done."
It was the second straight stumble for Rivera (0-1), who gave up a go-ahead grand slam to Minnesota's Jason Kubel on Sunday after converting 51 straight save chances at home.
Scutaro booted Alex Rodriguez's leadoff grounder to shortstop in the bottom of the ninth for his second error of the game, and Cano made it 7-6 with an RBI double.
But Papelbon recovered to get three tough outs and earn his 10th save, one night after blowing a two-run lead in the ninth when Rodriguez and Thames each hit a two-run homer to give New York a wild 11-9 victory.
Papelbon threw up and in on Thames before walking him to put runners on first and third with one out. The right-hander then made a quick stab of Juan Miranda's sharp grounder back to the mound and struck out Winn.
Daniel Bard(notes) (1-1) got one out for the victory.
The game was played in a constant drizzle on a slick field, but it was a much-needed win for Boston, which at 20-20 is off to its worst start since 1997. The Red Sox improved to 3-5 against New York.
Scutaro, whose two errors led to three runs, also reached on a throwing error by Rodriguez at third to start a four-run rally against Joba Chamberlain(notes) in the eighth.
With the Red Sox trailing 5-1, Scutaro went to second on Dustin Pedroia's single. Drew hit an RBI double and Kevin Youkilis blooped a two-run single before Chamberlain got an out.
David Ortiz tied it with a single off the right-center fence but paused to admire his shot, thinking it was gone. He was thrown out at second by center fielder Brett Gardner's strong throw.
Yankee Stadium was a little more than half full for the start, and the surly crowd that withstood the dreary conditions booed Chamberlain lustily as he left the mound having blown a 5-1 lead for CC Sabathia.
"Mo gets the loss, but I feel it's my responsibility," Chamberlain said.
Boston's bullpen pitched 4 1-3 innings of relief after Beckett left with two outs in the fifth.
(Copyright 2010 by The Associated Press. All Rights Reserved.)