Celtics Win Draft Lottery for #1 Pick in the June Draft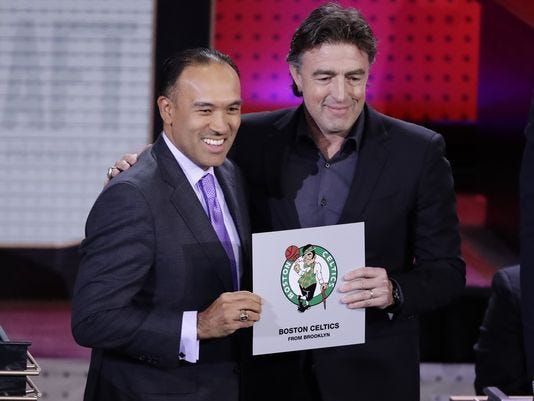 NEW YORK (AP) — The Celtics won by beating out the Lakers, giving the draft lottery an old NBA Finals feel.
Yet, obvious by Magic Johnson's smile, the hated rivals were both celebrating.
The Celtics won the lottery Tuesday night to continue another amazing basketball springtime in Boston, capitalizing on a trade they made with the Brooklyn Nets four years ago.
A night after winning Game 7 against Washington to secure an Eastern Conference finals matchup with Cleveland, the Celtics cashed in their 25 percent chance to land the No. 1 pick in the June draft.
''Game last night, Game 7, a tough Washington team. Game tomorrow against a tough Cleveland team. And now we squeeze in the lottery and win the pick. I don't know what's happening here. It's pretty amazing,'' said Wyc Grousbeck, a Celtics owner who represented them on stage.