Central Connecticut Scores 48 Unanswered Points To Beat Bryant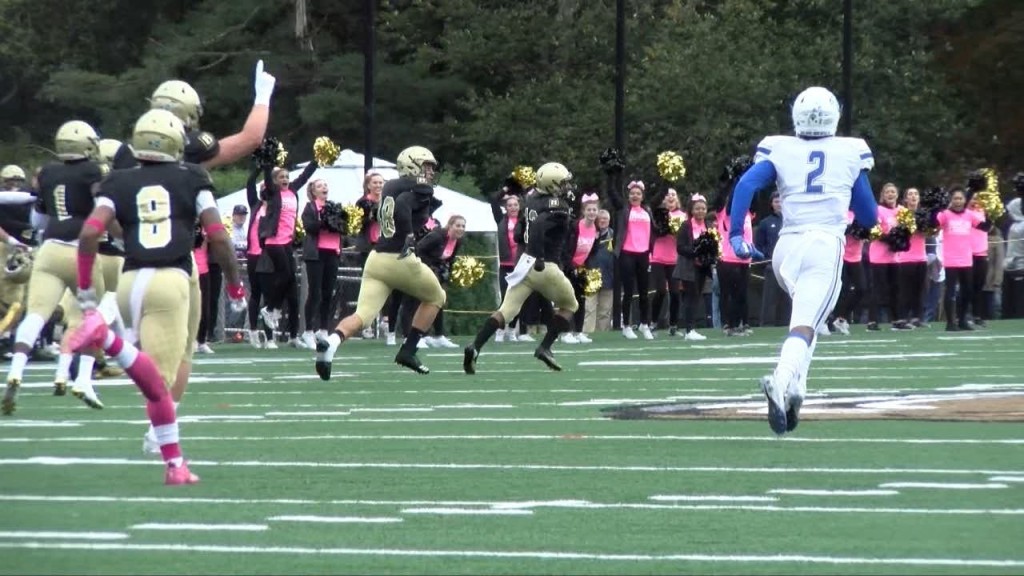 he Bryant University football team jumped out to a 14-0 lead but Central Connecticut scored the final 48 points to earn a 48-14 victory on Saturday afternoon at Beirne Stadium.
Junior Eulogio Portugal (Rosedale, N.Y.) set a program record with a 98-yard interception return for a touchdown to make it 14-0 with 5:37 left in the first quarter but the Blue Devils would score on seven of their next eight drives to earn the victory.
In defeat, senior Thomas Costigan (Stamford, Conn.) moved into sole possession of third place in career tackles with 233.
Game Information
Central Connecticut 48, Bryant 14
Records: Central Connecticut (4-3, 2-0 NEC), Bryant (4-2, 2-1 NEC)
Attendance: 3,745
Coach Perry's Comments
"We played an extremely poor second half against a very good football team. They played very well. It was disappointing because I thought the kids played hard."
Key Moment
Trailing 14-0, Central Connecticut's final three drives of the first half produced touchdowns. All three drives were eight or more plays and lasted 4:20 or more.
How it Happened
Bryant struck first with a nine-play 69-yard drive. Making his first-career start, redshirt-freshman Chris Hindle (Warwick, R.I.) converted on third down with a 31-yard run. Redshirt sophomore Alfred Dorbor (Pawtucket, R.I.) converted on another third down and sophomore Isaac McCray (Middletown, R.I.) punched it in from six yards out.
CCSU then drove down to the Bryant 8 before Portugal made his move. Portugal jumped the route and returned his second career interception 98 yards for a touchdown.
The Blue Devils then scored on their next three drives. Jacob Dolegala capped an eight-play drive with a 10-yard TD run and then connected with Courtney Rush for a 61-yard TD to make it 14-13. Aaron Dawson's seven-yard TD run with 1:51 left in the half gave CCSU the lead.
Bryant had a chance to retake the lead as a 15-yard reception by senior Vincent Nisivoccia (Nutley, N.J.) put the ball at the CCSU 1. Two plays later, however, a strip sack ended the drive.
Dolegala's second TD run of the game made it 28-14 with 1:51 left in the third.
The Blue Devils put the game away with a 20-point fourth quarter. Drew Jean-Guillaume, Dolegala and Danley Exhilhomme all posted rushing scores in the fourth quarter.
Stats
CCSU outgained Bryant, 667-292.
The Blue Devils dominated possession, 38:33-21:27.
Redshirt senior Price Wilson (Marietta, Ga.) finished 13-of-34 for 168 yards.
Hindle was 4-of-6 for 27 yards and also rushed for 21 yards.
McCray led the team with six carries for 37 yards and a touchdown.
Nisivoccia led the team with seven catches for 65 yards.
Junior Jesse Nemerowicz (Hudson, Mass.) posted 10 tackles and a tackle for a loss.
Costigan finished with eight tackles.
Freshman Greg Johnston (Asheville, N.C.) posted seven tackles.
Portugal intercepted his second pass of the season.
Notes and Notables
Bryant allowed over 600+ yards of total offense for the first time in program history.
Hindle became the first freshman to start at quarterback since Charlie Granatell in 2004.
Portugal's 98-yard interception return was the longest in program history. It broke the previous record of 95 set for Bryce Martins in 2006 at Pace.
Costigan moved into sole possession of third place with 233 career tackles.
The Bulldogs blocked two PATs and have seven blocked kicks on the year.
Playing in his second-career game, Johnston's seven tackles were a career high.
Up Next
The Bulldogs head to the Bronx next Saturday to face Fordham in a non-conference contest. Kickoff is scheduled for 1:00 p.m.