Central Coventry Fire District Ordered to Close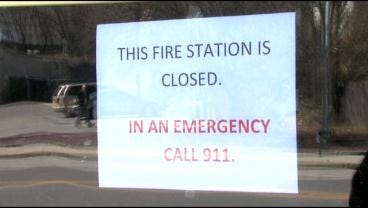 by ABC6 Chief Political Reporter Mark Curtis
At 8 O'clock Friday morning, three of the five Central Coventry Fire Stations were shut down. People who live and work nearby were not happy.
"Obviously losing a fire department is going to leave the public more vulnerable to fires and EMS," said Ryan Wilkins.
Coventry resident Barbara Izzo said, "You know the firemen aren't going to be able to get to, you know, us on time, and just the whole situation, it's just very heartbreaking."
Stations at Hill Farm Road, Main Street and Station Street are all closed. Only the headquarters on Arnold Road, and the Flat River Road Station remain in business.
"It's more of a triage plan at this point, to continue the fire service and the protection of the EMS service for as long as we possible can," said Fire Captain David Gorman.
Once the case got to the courtroom, the situation was bleak. The judge ordered the fire district to cease operations completely on April 12th, saying he had no funding authority to keep the department open.
Judge Brian Stern said, "I firmly believe we that we are headed, in the short term, and it is unknown in the long term, for a public safety disaster."
Mark Curtis asked the receiver, "Could the Governor order a state of emergency and provide coverage that way?
Court Appointed Receiver Richard Land said, "That's beyond my pay grade. You'd have to ask the Governor that. I'm not sure what the requirements are for announcing or declaring a state of emergency."
ABC6 Chief Political Reporter Mark Curtis said, "Now the judge said only the Coventry Town Council, the General Assembly and Governor Chafee can change the law and get this fire department funded. Otherwise it's doors close on April 12th. The surrounding departments may cover the area in Central Coventry for a few days, but after that, Central Coventry and its 18 thousands residents may be on their own. Reporting from the Kent County Courthouse in Warwick, I'm Mark Curtis ABC6 News.