Chafee announces staff and their salaries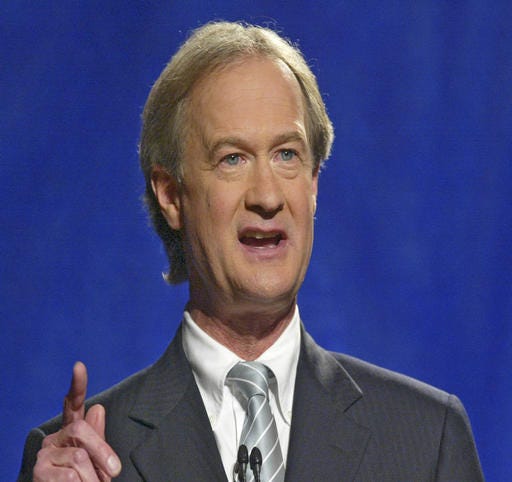 Rhode Island Governor-elect Lincoln Chafee announced an initial 25-person full-time staff Friday, down from the 45 that's currently budgeted.
The highest-paid staff member is Patrick Rogers, his chief of staff and executive counsel. He'll be paid $197,448 annually.
The total staff payroll is more than $1.9 million.
"I feel confident that my staff will be a model of efficiency and productivity," Chafee said. "Our state is in a fiscal crisis, and bearing in mind our sizeable deficit and the difficult economic times, I want my office to set an example for frugality and efficiency in state government. We will have fewer employees, but we have a talented team who will work hard to accomplish more with less. Pat Rogers, for example, will be taking on what are normally two full-time positions, as will Mike Trainor. This will lead to considerable savings."
Here's the staff list and their annual salaries:
| | | |
| --- | --- | --- |
| Robert Albee | constituent affairs analyst | 35,619 |
| Joseph Alston | senior legal assistant | 70,565 |
| Tony Aristy | receptionist/greeter | 45,043 |
| Susan Bernstein | policy and legislative analyst | 45,043 |
| Andrew Braca | research associate | 35,619 |
| Lincoln Chafee | Governor | 117,817 |
| John Cucco | communications analyst | 45,043 |
| Brian Daniels | director of policy | 89,970 |
| Christine DiFilippo | executive assistant | 76,648 |
| Donna Dell'Aquila | executive assistant | 85,256 |
| Anita Flax | policy and legislative analyst | 45,043 |
| Stephen Hourahan | senior advisor to the Governor | 145,028 |
| William Kinsella | director of constituent services | 45,043 |
| Lori Lee | executive assistant to the Governor | 85,609 |
| Ivan Marte | assistant to the governor | 45,043 |
| Cara McAllister | scheduler | 45,043 |
| Stephen McAllister | policy and legislative analyst | 45,043 |
| Jamia McDonald | deputy chief of staff | 133,596 |
| Kenneth Procaccini | policy and legislative analyst | 45,043 |
| Claire Richards | senior legal counsel | 116,145 |
| Patrick Rogers | chief of staff & executive counsel to the governor | 197,448 |
| Catherine Cool Rumsey | assistant to the governor | 50,355 |
| Janice Sassi | administrative assistant | 35,619 |
| Jonathan Stevens | special projects manager | 89,970 |
| Michael Trainor | director of communications & press secretary | 129,235 |
| Christian Vareika | communications analyst | 45,043 |