Chafee to be Inaugurated 1st Independent RI Gov.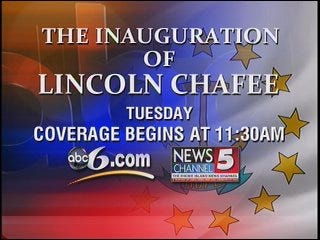 ROVIDENCE, R.I. (AP) – Lincoln Chafee will be sworn in as Rhode Island's first independent governor in a ceremony outside the Statehouse.
Tuesday's inaugural will be at noon on the south portico of the State House.
The ceremony will include the reading of an original poem by the state's poet laureate, Lisa Starr, and a flyover by the Rhode Island National Guard.
It is open to the public.
Chafee is a former Republican U.S. senator and mayor of Warwick. He says he wants to get the state budget in shape, and is starting with a scaled-back inaugural that includes no inaugural ball and a
free Waterfire Tuesday evening.
Also being inaugurated are Lt. Gov. Elizabeth Roberts, Secretary of State Ralph Mollis, Attorney General Peter Kilmartin and General Treasurer Gina Raimondo.

(Copyright 2011 by The Associated Press. All Rights Reserved.)