Chafee's Inauguration a Continuation of Chafee Legacy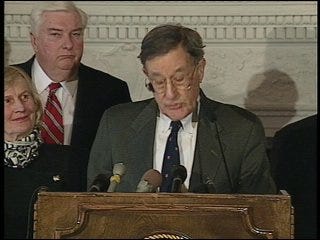 Former Mayor of Warwick and Senator Lincoln Chafee was sworn in as the state's next Governor today, adding another chapter to the storied Chafee political legacy.
His father, John Chafee, was Governor in the 1960s and a US Senator. After his passing, Lincoln was appointed to fill his father's seat.
Lincoln Chafee's political roots go back even further in Rhode Island – great-great grandfather Henry Lippitt and great-uncle Charles Warren Lippitt both served as governors in the late 1800s, and great-uncle Henry F. Lippitt was also a US Senator from Rhode Island.