Chariho Football Star Needs Facial Surgery After Being Jumped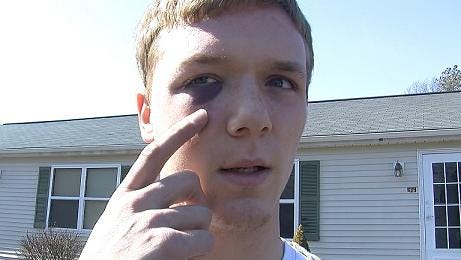 A Chariho High School football star needs facial reconstructive surgery after being jumped by a group of teens.
Three of the teens involved in the beating have been arrested, two were arraigned and released Wednesday afternoon.
This brawl is connected to another fight that left a Chariho student with a skull fracture. Some of the suspects involved in this fight were also part of what's been dubbed "The Tower Street Beating," where a 17-year-old student was pummeled, allegedly over a girl.
17-year-old Colton Place says he was trying to protect his friend who was the target of the attack, because he talked to police.
"My cheekbone is broken in three places right through here," Place pointed to the right side of his face where he was hit many times.
Place wasn't looking for a fight. He's a running back on the Chariho High School football team and is applying for college scholarships. But he says he was trying to protect his friend, Darien Northup, who was the target of retaliation.
"I was trying to help him out because I didn't want him to get in trouble," said Place.
Northup knew the attackers, who he says don't like him, because he talked to police about a brutal beating they took part in last year.
Place says he and Northup were playing basketball at the Ocean Community YMCA, when they were confronted by a group of teens. He says four guys surrounded their car in the parking lot and started spitting on it.
Place says he got out his car to ask the kids to move, when they pulled his sweatshirt over his head and started beating him. He was hit several times in the face by what his mother believes was brass knuckles.
Kristen Place, the victims mother, says "I hope they make an example because they definitely could have killed my son."
Three of the four suspects have been arrested. One is a juvenile, the other two were arraigned in court on Wednesday. In matching black hoodies and handcuffs, 18-year-old Mathew Pratt and Steven McGuire stood before a judge. They had nothing to say after being released on 10, 000 dollars personal recognizance. The judge also ordered them to have no contact with the victims and to stay away from the YMCA.
Place's mother says the punishment should be more severe.
"A few of the kids were involved in an incident a year ago and obviously if they had a harsher punishment they wouldn't have been able to do what they did to Colton," said Place.
The beating put Place out of school for two weeks and once the swelling on his face goes down, he'll have to get surgery. Place and Northup fear the group could strike again.
Northup says, "I know there's a lot of them and they're probably going to retaliate because all their friends got locked up."
Superintendent of Chariho Regional Schools, Barry Ricci, released a statement to ABC 6 regarding the fight.
"Our community is shocked, disturbed, and actually disgusted that this brutal beating of a Chariho High School student occurred. Our thoughts and prayers are with this fine young man as he recovers from his significant injuries," said Ricci.
Westerly police have a warrant out for the fourth suspect involved in the beating, but haven't been able to find him. McGuire and Pratt plead not guilty to felony assault charges and are expected back in court on April 17th.