Charles Morgan leaves New Bedford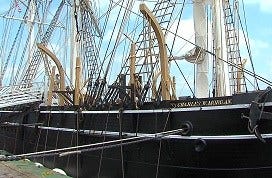 By: Dee DeQuattro
Email: ddequattro@abc6.com
Twitter: @deedequattro
The Charles W. Morgan Whaling ship has departed from State Pier in New Bedford after a one day delay on its journey due to choppy seas.
After a two week visit to the "whaling city" the world's last wooden whaling ship is headed to the Massachusetts Maritime Academy in Bourne.
The ship departed around 7:30 a.m. and is expected to dock in Bourne around 12:30 p.m. on Tuesday.
Thousands came out to see the ship while it was in New Bedford stimulating local business.
(C) WLNE-TV 2014