Charlestown gymnast determined to come back from paralysis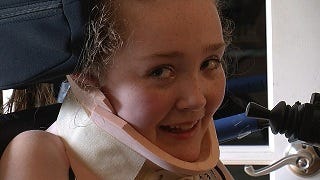 By Abbey Niezgoda
It is an inspiring update on a brave little girl from Charlestown that ABC6 News first introduced you to 7 months ago. Rhana Fleming was suddenly paralyzed by a rare condition, but now that she is finally home, she is making big steps in her recovery.
By most accounts, Rhana Fleming is your typical 12-year-old girl. She still names her stuffed animals and she loves a good make-over. But to really understand the transformation she's made, you have to know how far she's come.
Seven months ago, she was in the intensive care unit. There was no fall and no accident. It was just a nerve reaction doctors call transverse-myelitis. It left the Charlestown middle schooler paralyzed from the neck down.
"It was kind of scary," Rhana said. "I just thought my leg fell asleep and then I was in the hospital."
193 days later, she is back home and the little girl who used to do hand stands is learning how to stand up again. She's gone from one step, to two, to ten.
When Rhana came back from the hospital, she came back to a very different home. For example, her family has installed an elevator and are renovating the basement to be easily accessible for her.
"She's definitely doing better here than in the hospital," her father Robert Fleming said. "I hope she makes a full recovery and goes on to use this experience to help other people."
As he works to rebuild downstairs, Rhana works on rebuilding her strength from head to wiggling her blue-painted toe nail.
While she won't be getting back on the mat anytime soon, she is getting the mail. Unlike most 12-year-olds, she doesn't mind doing chores, as long as it's part of the progress.
"I tell myself I can do this," Rhana said. "Just don't let anybody stop you."
Rhana and her family are looking for more nurses as well as donations. You can find out more here: www.rhanasjourney.com