Charlie Baker Sworn in as MA Governor; GOP Stronghold in Attleboro Celebrates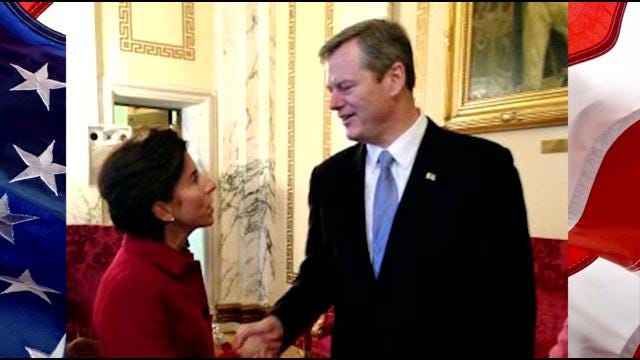 Twitter: @markcurtisABC6
It was a party atmosphere at the Republican headquarters in Attleboro as members prepared to head to Governor Charlie Baker's Inaugural Ball in Boston.
"Me personally, I am very excited for Charlie. I campaigned for him. I got out of the military and one of the first things I started to do was to jump into the political process," said Julie Hall, a Baker campaign volunteer.
"He's really made promises to reach across the aisle to work with really everybody in the Statehouse," said Jonathan Kirby, a member of the Massachusetts Young Republicans.
Over 100 people from Attleboro are going to the parties in Boston, and volunteers were making last minute travel arrangements, as Baker was busy taking the oath of office at high noon.
ABC6 Chief Political Reporter said, "Now among those going to Boston for Republican Charlie Baker's Inaugural, was Rhode Island's Democratic Governor Gina Raimondo."
And Baker was just at Raimondo's Inaugural Tuesday.
Despite party differences, the two states share major issues like regional transportation and fishing industries.
"It's very important that he has a good relationship with the new Governor of Rhode Island and that he's able to work with her. So I think that it's a great idea that they've already shown that they are going to able to sit down, talk and deal with the issues that they share," said Susan Blais, of the Attleboro Republican City Committee.
Charlie Baker is 58 years old. He is the 72nd Governor of Massachusetts.