Chelsea Priest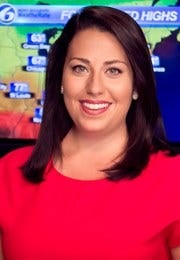 ABC6 Morning Meteorologist Chelsea Priest is a Rhode Island native.
She was raised in Warwick and graduated from The Prout School in
Wakefield. Chelsea earned her Bachelor of Science degree in Meteorology
from Plymouth State University in Plymouth, New Hampshire.

Following graduation, Chelsea moved to Southeast Ohio so pursue her
passion for weather. She worked as the morning meteorologist at WHIZ
in Zanesville. After spending a year in Ohio, Chelsea was thrilled to move
back to the Ocean State and work right here at ABC6 as the weekend
meteorologist and weekday reporter. Since she joined the Stormtracker
Weather team in 2011, she's covered many big weather events like
Tropical Storm Irene, Sandy, and the blizzard of February, 2013. In
January of 2015, Chelsea took over the weekday morning meteorologist
position and you can now catch her Monday through Friday on Good
Morning Providence.

When not forecasting the exciting and ever-changing weather of
Southern New England, Chelsea can be found enjoying everything else the
area has to offer. Her favorite pastimes include sailing, dancing, skiing,
traveling and spending as much time as she can at our amazing beaches!
Working in Rhode Island means so much to Chelsea as she can also spend
time with her tight-knit family and close group of friends.

Chelsea is a member of The American Meteorological Society and can be
found sharing her passion for weather with local students while
visiting schools across the area. Feel free to reach out to Chelsea to
plan a school visit. You can reach her at cpriest@abc6.com.