Chemical plant explosion in Newburyport kills one employee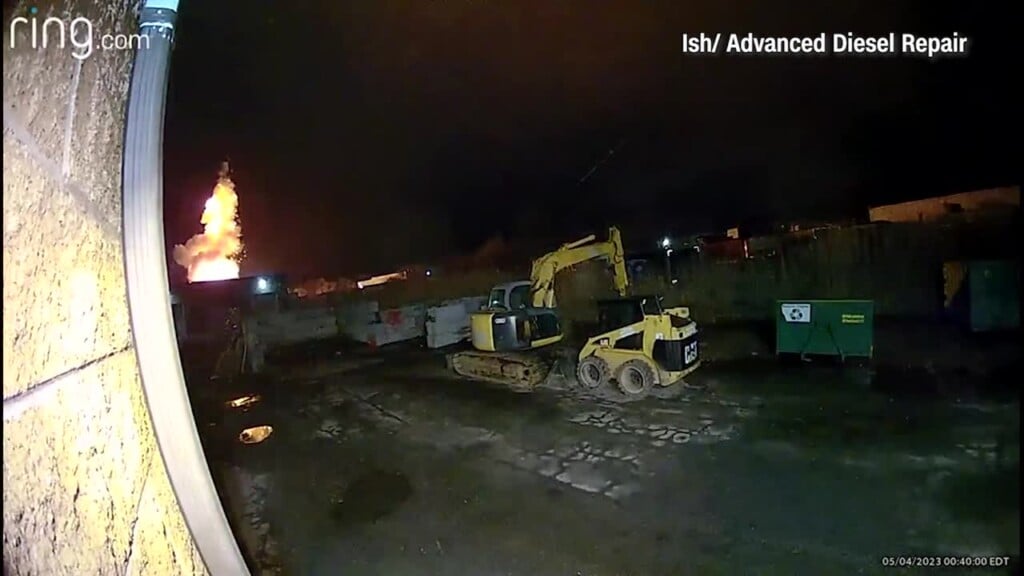 NEWBURYPORT, Mass. — A worker who was unaccounted for after an explosion at a chemical plant in Newburyport has been found dead, according to the fire chief of the Massachusetts city, WCVB Channel 5 reports.
Newburyport Fire Department Chief Steve Bradbury said that search-and-rescue crews found the worker's body at about 5:25 p.m. Thursday, nearly 17 hours after the explosion happened.
The family of the worker has identified him as 61-year-old Jack O'Keefe, of Methuen.
Officials said that at about 12:45 a.m. Thursday, 911 operators received a report of an explosion at the Seqens plant at 9 Opportunity Way.
Upon arrival, fire crews saw that an industrial-sized vat from inside the building had moved about 30 feet because of the explosion, and it was sitting in an adjacent parking lot.
Five workers were inside the building at the time of the blast, according to Bradbury. Four people were taken to a local hospital, treated and released.
The building sustained major structural damage, which initially prevented firefighters and technical rescue crews from entering to begin a search for the missing worker, officials said.
A Coast Guard helicopter was called to the scene to perform an aerial search.
"It was a very violent explosion, and we wanted to search the perimeter (of the building}," Bradbury said.
Shortly after 9 p.m., a spokesperson for the Newburyport Fire Department informed NewsCenter 5 that O'Keefe's body had been removed from the facility and was in the possession of the state's Office of the Chief Medical Examiner.
O'Keefe's sister told NewsCenter 5 that he was a father of two and U.S. Army veteran. She said O'Keefe was a longtime employee of Seqens and was at the plant when it was rocked by a series of explosions in 2020.
"Now, you have another massive explosion … This is bad," O'Keefe's sister said. "Aren't you going to fix something?"
"We are deeply saddened to report that a long time member of our family died during the accident. The entire group and its employees are extremely shocked by this accident. At this tragic moment, all our thoughts and prayers are with our friend and colleague and his family during this difficult time," a Seqens spokesperson said in a statement. "The safety of our employees has always been, and continues to be, our top priority. We strive to follow best practices and regulatory guidelines, and have implemented safety protocols and procedures to prevent incidents like this from occurring.
"We are fully committed to working closely with the authorities and relevant agencies to determine the cause of the incident. Again, we want to thank the first responders for their quick work and renew our support for the family."
In 2020, firefighters who were called to the Seqens plant were met with several explosions. No one was injured in that incident. Fire officials said a chemical storage drum experienced a reaction causing it to explode upward — leaving a hole in the roof.
This content is imported from Twitter. You may be able to find the same content in another format, or you may be able to find more information, at their web site.
Before the company changed names from PCI Synthesis to Seqens, the company's safety record showed several OSHA violations.
In 2019, the company agreed to pay $50,000 for six violations issued by OSHA. The following year, the company agreed to pay $28.000 in fines after an explosion blew a hole through the roof. The same year, it paid $8,000 for violations, including one that was categorized as "serious."
State Fire Marshal Peter Ostroskey said in his opinion, Thursday's incident falls into a more serious category.
"I would term it as more significant than previous incidents here. There's a fairly large debris field," he said.
Seqens North America is an active pharmaceutical ingredient manufacturing company, according to the company's website.