Chief Seddon visits Burrillville classmates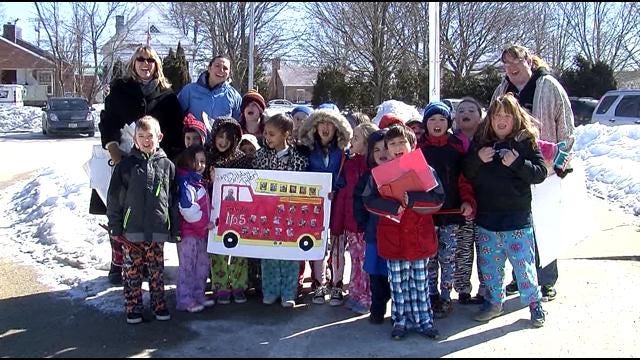 By: Melissa Randall
Tyler Seddon arrived at his Burrillville elementary school in style Thursday morning. A police cruiser dropped the newly appointed chief for the day at the front door. Dozens of his classmates from AT Levy School were there to greet him and help the boy celebrate his birthday.
"They haven't seen their friend in several months, and they are just thrilled to get a peak at him," said Julie Mayhew, school principal.
Before today Tyler hadn't seen his friends in about 5 months. The boy who turned 7 years old March 6th is battling Leukemia for the second time.
"We miss him very, very, very much," said classmate Kylee Montiero.
"It made me happy he was coming back today," said classmate Devlin Mansolf.
Tyler didn't just swing by. The first grader was actually able to get out and spend time with his friends. He walked down the line and waved to the chanting crowd. He had time for a hug and quick chat with his principal.
Ms. Avila's first grade class spent the morning preparing a heroes welcome for their brave little friend on his special day.
"We talked about him, we sang him happy birthday, and made a birthday book for him this morning- just as we would if he were in the classroom with us," said Alison Avila.
The kids also made signs for Tyler. Their efforts did not go unnoticed. Tyler personally acknowledged all their hard work yelling "Thank you!" over the police intercom.
His friends look forward to having Tyler back in class with them, when ever that may be, and are thrilled to have had the chance to help him celebrate his big day.
Tyler's day wasn't over yet. Hundreds of his 'Troops'- made up of police officers, firefighters and first responders- held a huge birthday bash at Wright's Farm in his honor.
(C) WLNE-TV 2014
Follow me on Twitter @MelissaARandall