Choh Scores Career-High 26 Points In Hometown, Reaches 1000 As Brown Beats UMass Lowell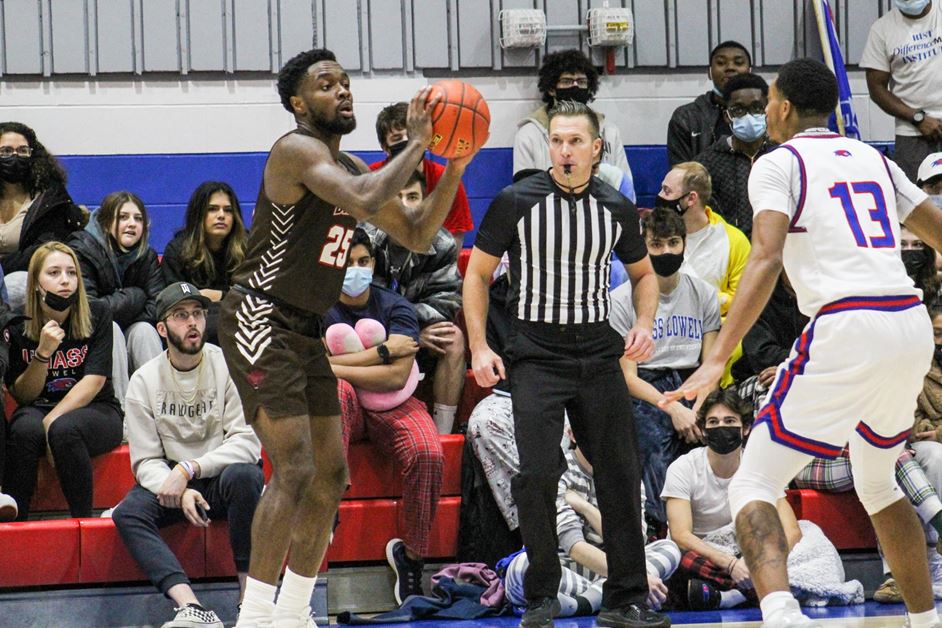 (Photo Courtesy: Brown Athletics)
Brown University Press Release
LOWELL, Mass. – Tamenang Choh, playing in front of his hometown crowd, recorded his 1,000th career point and a career-high 26 as he led the Brown men's basketball team to a 73-63 victory over UMass Lowell. Choh became the 32nd player in program history to reach the 1,000 point milestone.
"That was a terrific win against a very good team," head coach Mike Martin said. "Our defense was very good for extended stretches and that allowed us to get some transition buckets to build our lead. It was also great to see Tamenang play so well in his hometown."
To go with his 26 points, Choh also grabbed seven boards and added one steal and one block. David Mitchell had a solid performance as well, posting a career-high 14 points to go along with four rebounds and three steals. Kino Lilly Jr., in his first collegiate start, added 15 points and three steals, while Paxson Wojcik contributed nine points and led the team with four assists and four steals.
After a slow start offensively, Brown took its first lead of the game after a Mitchell layup that put the Bears up 15-14 at the 10:34 mark of the first. After a pair of lead changes, buckets by Jaylan Gainey and Choh put the Bears ahead by five at 33-28 going into the break.
Back-to-back threes by Lilly Jr. and Wojcik, followed by a pair of two-pointers by Mitchell stretched Brown's lead to 14 at the start of the second half.
Two free throws by Lilly Jr. with five minutes remaining in the game pushed the lead to 15, the Bears' largest advantage of the contest. The River Hawks would manage to cut the deficit to four at 65-61 with 1:18 remaining, but eight free throws down the stretch, six of which were by Choh, sealed the victory for the Bears.
The win goes down as Brown's second double-digit victory in a row and the fifth straight game that the Bears kept their opponents at or below 65 points.
Brown will be back in action this Sunday, Dec. 5 at home against Sacred Heart at 2 p.m.